Finland: Chinese Tourists Learn Facts about Falun Gong at Helsinki Tourist Sites
September 29, 2017 | By a practitioner in Finland
(Minghui.org) As more and more Chinese tourists are visiting Finland, often known as "the land of a thousand lakes," Falun Gong practitioners have been finding opportunities to meet them and dispel the effects of the slanderous propaganda from the Chinese Communist Party (CCP).
From posters, banners, to exercise demonstrations and signature collections, practitioners volunteer their time and have been maintaining a presence at various tourist sites in Helsinki, the capital and largest city of Finland. The sites include Sibelius Park, Senate Square, Temppeliaukio Church, and Hesperia Park.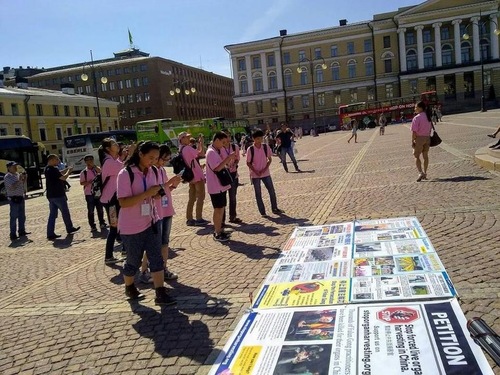 A group of Chinese students read posters about Falun Gong at Senate Square.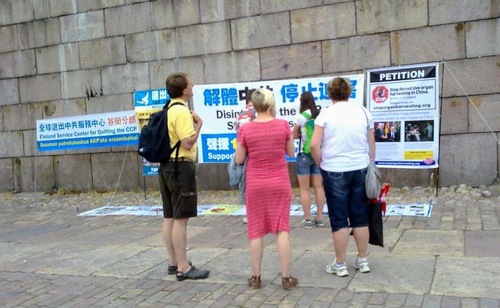 Tourists read posters at Senate Square.
Health and Spiritual Benefits
On one occasion when practitioners were practicing the meditation, a Chinese tour group arrived. The tourists stopped to read the banners and one of them began to tell others what she had seen on television in China about Falun Gong.
A practitioner stopped doing the meditation and came over to talk with them. She explained how the practice of Falun Gong improved her health, and that the principles of Truthfulness-Compassion-Forbearance uplifted her mind and heart nature. The tourist seemed impressed. The practitioner then told the group how the communist party has defamed Falun Gong with fabricated stories over the years. In the end, the tourist said she would renounce her membership in the communist party organizations.
A Chinese businessman from Guangxi Province said he appreciated the words on the banners displayed by practitioners. "The Party has done many bad things. My two older brothers both died in the Cultural Revolution," he recalled. He asked a practitioner to help him quit the communist party organizations. Upon leaving, he took pictures of the banners and posters to show his friends back home.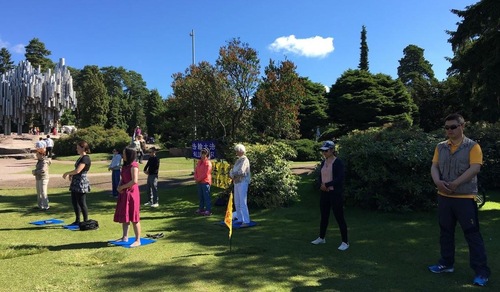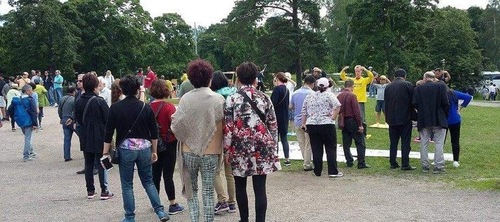 Group exercise at Sibelius Park attracted many onlookers.
Tour Guides Show Support
Some practitioners often talk with tour guides first about Falun Gong before reaching out to tourist groups. Once, when the practitioners were doing the exercises and displaying banners, a tourist asked, "Why don't the police come and arrest them [the practitioners]?" The tour guide explained to him that Falun Gong is well accepted in many countries and is only suppressed in China.
Another tour guide said, "I really admire Falun Gong practitioners. They protest in front of the Chinese Embassy no matter the weather, summer or winter, even on snowy days. It has been raining all day long, but practitioners came anyway and they were here much earlier than we were. I know they are wronged in China [for their belief]." Upon hearing these words, many tourists went over to the practitioners to learn more about Falun Gong.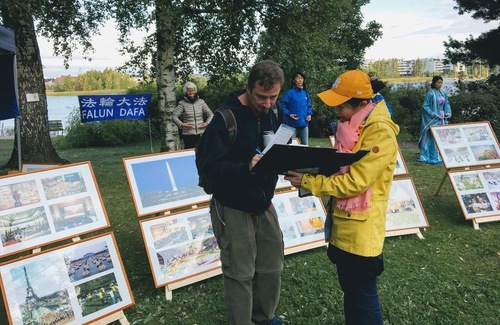 A tourist in Hesperia Park signs a petition to show his support for Falun Gong.
Dispelling Confusion
A practitioner was once talking with five tourists from southern China. One of them said that he believed in Christianity and did not need to quit the communist party organizations. The practitioner explained to him that if a person had vowed to devote his life to the Party, how could his religion help him? The tourist thought about it and later agreed to separate himself from the CCP.
One tourist from China said that he did not like Falun Gong. When asked why, he said that his wife is a Falun Gong practitioner and had been arrested for going to protest in Beijing, which impacted his life.
The practitioner asked him if he had noticed positive changes since his wife began to practice. The man was quiet, thinking.
The practitioner then explained, "That is why when the government defames Falun Gong for no reason, she would stand up and tell people what is right and what is wrong, although she knows that doing so may have consequences."
In the end, the man accepted materials from the practitioner and said he would read them.
"This [Forced Organ Harvesting] Is Absurd!"
A Chinese man who lives in Malaysia watched the practitioners doing the exercises for a long time. He talked with them about the persecution in China and was shocked to hear about the state-sanctioned organ harvesting from living practitioners for profit. "This [forced organ harvesting] is absurd!" he commented, "I knew that the communist party was bad, but I did not know it had become like this." He signed a petition to support Falun Gong and said he would tell his friends about what is happening in China.
Two tourists with a group from Hong Kong stopped by and said that they only had 15 minutes to stay. "But we would like to learn the exercises. Could you teach us?" one of them asked. They learned the first four sets of exercises and said they would continue upon returning to Hong Kong.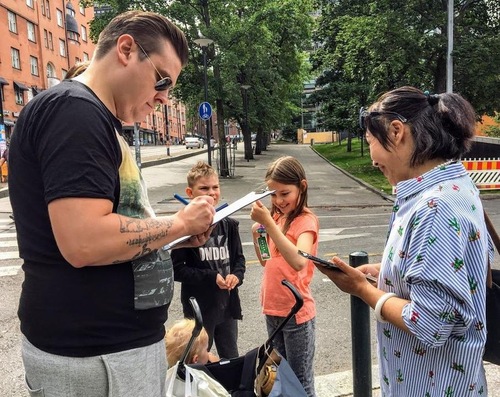 A tourist signs a petition at Kamppi District in central Helsinki.
Tourists from other countries were also interested in learning about Falun Gong and many signed petitions calling to stop the brutality in China. Luisa, a tour guide, often takes her groups to read practitioners' posters and tells them about the forced organ harvesting in China. "I feel it is important for them to know all this," she said.