Slovakia: Investigator Explains to Parliament that "Body Exhibit" Likely Displays Executed Prisoners
(Minghui.org) Canadian lawyer and Nobel Prize nominee David Matas, who is investigating forced organ harvesting in Chinese prisons, visited Slovakia on September 4-6. He talked in several media interviews about the "body exhibit" that has been on display in Bratislava since August.
Mr. Matas has repeatedly stated that the problem with such exhibitions is that the source of the bodies is unclear. The same is true with organs available for transplant in China. He has been investigating organ transplantation in China for a long time, and according to his findings, the majority of organs for transplant come from prisoners of conscience—mainly Falun Gong practitioners, but also from Uighurs, Tibetans, and Christians. The body exhibition is then part of the same problem as the forced harvesting of organs from prisoners, albeit on a much smaller scale.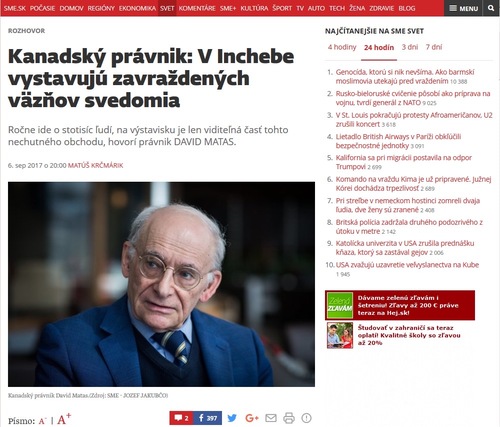 Article in a major Slovakian online newspaper on September 6, 2017: "Canadian lawyer: Murdered prisoners of conscience exhibited in Incheba exhibit hall."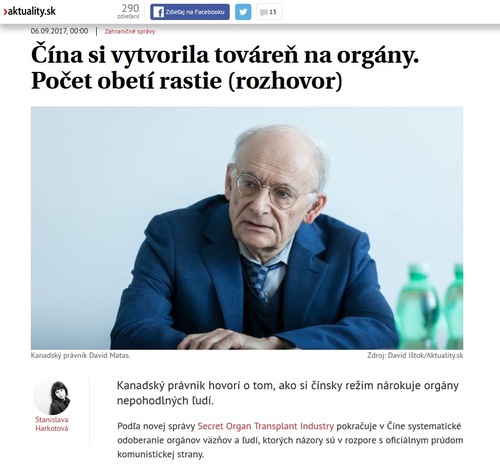 News story: "China has set up a factory for organs. The number of victims is growing."
On Tuesday, St. Elizabeth University of Health & Social Sciences in Bratislava hosted a presentation by Mr. Matas about the connection between "body exhibits" and transplantation abuse in China. A discussion followed.
Most of the 30 who attended the event, including representatives from the Slovak Medical Council, were disturbed upon hearing the information that Mr. Matas presented, and expressed their willingness to help.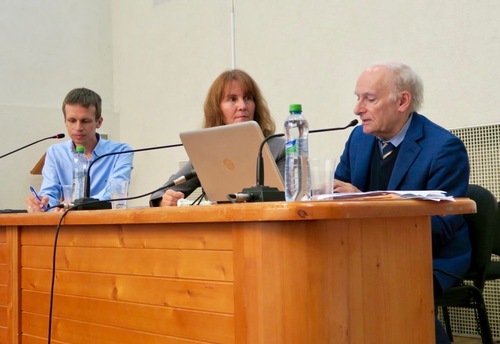 Lecture and discussion at St. Elizabeth University of Health and Social Sciences in Bratislava.

On Wednesday, Mr. Matas' report was presented in the National Council of the Slovak Republic. The presentation was attended by ten members of the National Council, including Juraj Droba, Peter Osusky, Erika Jurinova, Jana Ciganikova, Milan Laurencik, Anna Veresova, Ondrej Dostal, Marek Krajci, Eduard Heger, and Alan Suchanek.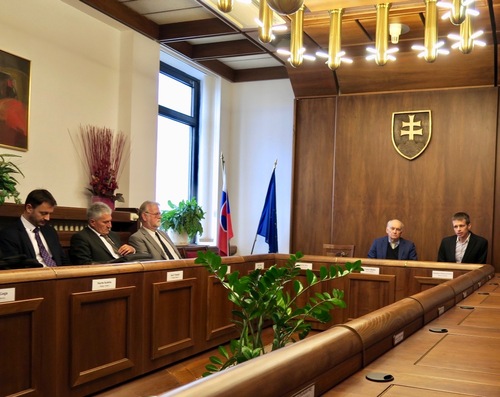 Mr. Matas' report presented in the National Council of the Slovak Republic.
The Councilors were concerned to learn from Mr. Matas that the bodies in the exhibition could be those of prisoners of conscience from China. Given his experiences in other countries, they asked him how to effectively prevent such exhibitions.
Mr. Matas said, "Do something. Doing something is better than doing nothing." According to him, what is most effective is to focus on the existence of verifiable consent from the deceased. He mentioned the Czech Republic, which recently adopted legislation that requires verifiable consent of the deceased, given during their lives, before such an exhibition can be held.
In response to the information published during Matas' visit to Bratislava, a rally was held on Thursday, September 14, in front of the Chinese Embassy in Bratislava.
The intent was to draw attention to the fact that Falun Gong practitioners in China are killed for their organs as well as for plastination of their bodies for such body exhibitions.
Mr. Ondrej Dostal, a member of the National Council of the Slovak Republic, attended the rally to show his support for practitioners' efforts to expose the facts about the body exhibition and forced organ harvesting from Falun Gong practitioners in China.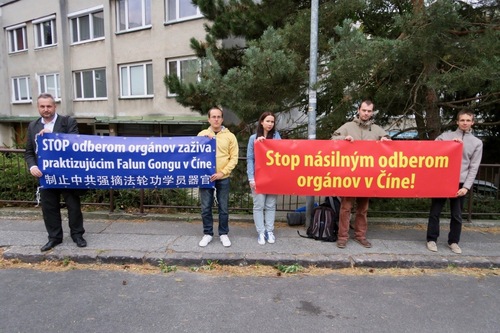 Rally in front of the Chinese embassy. Mr. Ondrej Dostal, Member of the National Council of the Slovak Republic, is first on left.