New Jersey: Practitioners Participate in International Day Activities
November 24, 2019 | By Falun Dafa practitioners from New Jersey
(Minghui.org) The representative for New Jersey's 10th congressional district, Congressman Donald Payne Jr., marked International Day by holding an annual community event on November 17, 2019. Constituents from different countries and ethnic groups were invited to share their respective nationalities and ethnic cultures. Falun Dafa practitioners from New Jersey were invited for the third time to attend the event representing Chinese culture.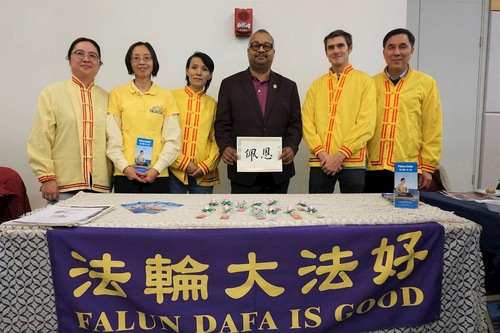 New Jersey congressman Donald Payne Jr. poses with practitioners for a group photo.
This year's event was attended by local residents from 33 countries. Congressman Payne's office also invited several consul generals from the New York consulate offices, and diplomats to attend the event.
Falun Dafa practitioners introduced the practice and its unique principles, Truthfulness-Compassion-Forbearance, to people from all walks of life. Four practitioners performed the five sets of exercises on the stage. Practitioners later dressed in traditional Chinese ethnic costumes and played music on Chinese instruments. The elegant Chinese music received enthusiastic applause.
A practitioner who was imprisoned at the Masanjia Forced Labor Camp for six years shared her experience of being tortured for her belief. Congressman Payne was shocked by what the practitioner went through. It was the first time he had personally met a Falun Dafa practitioner who had been brutally tortured by the communist regime.
One representative from a community group had previously visited China on many occasions. When he spoke to the locals in China about Falun Dafa, they were scared, and asked him not to talk about it.
Meeting practitioners at the event helped him understand what Falun Dafa is about, and why it is being persecuted in China. Several local residents from China renounced their memberships in the Chinese Communist Party (CCP) and its youth associations after learning the truth behind the persecution.
Congressman Payne is a long-time, vocal supporter of Falun Gong practitioner efforts to stop the prosecution. During this event, he spoke with practitioners and took a group photo with them.