Helsinki: Tourists Support Falun Gong's Effort to Stop the Persecution in China
July 17, 2019 | By a Falun Gong practitioner in Finland
(Minghui.org) Two Chinese American tourists said to a Finish Falun Gong practitioner as they handed her six bottles of water, "You've been working hard! We can't help you much so this is just to show our appreciation." This happened on July 6 in Helsinki's Sibelius Monument Park, a famous tourists site where Falun Gong practitioners set up a Falun Gong informational site.
The site was set up in early May, and includes a six-meter-long row of display boards on the grass, which introduce Falun Gong and the facts about the persecution to passersby.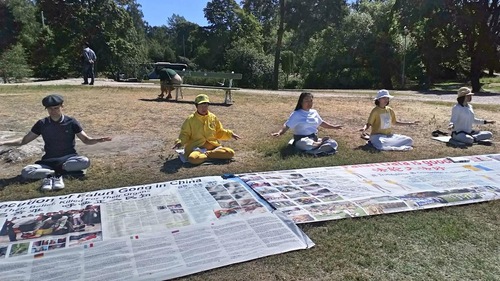 Falun Gong practitioners perform the exercises.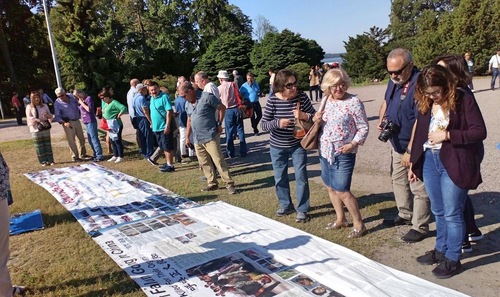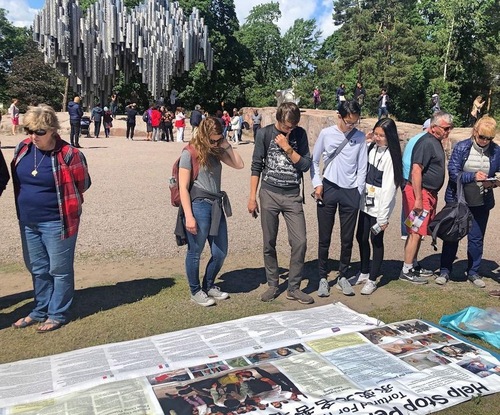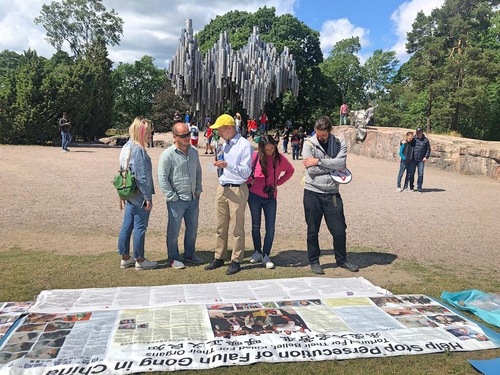 Tourists read the display boards and talk to Falun Gong practitioners.
Open Letter to Passersby
Many tourists stopped in front of the display boards to read an open letter from the Falun Gong practitioners. It was translated into many languages, including English, Finnish, Swedish, French, Italian, Russian, Japanese, and Korean.
The letter said, "We are Falun Gong practitioners living in Finland. Falun Gong is a cultivation practice, whose practitioners follow the principles Truthfulness, Compassion, Forbearance. We are here every day to meet Chinese tourists visiting this park. We tell them the facts of the persecution of Falun Gong in China, and hope to awaken their conscience. Because the Chinese Communist Party (CCP) indoctrinates the Chinese people and blocks information on the Internet, many Chinese still don't know about the ongoing persecution.
The letter continued by telling readers that Falun Gong was introduced to the public in 1992, and the persecution was launched by Jiang Zemin, then leader of the Chinese communist regime, in 1999.
The letter ended by saying, "We are volunteering here because the persecution is still on-going, innocent people are still imprisoned, and countless Falun Gong practitioners have been killed and their organs sold for organ transplantation – economic profit. We don't accept financial support or donations. However, we hope you can sign the petition to help end this persecution and killing."
Many tourists signed on the petition after reading the open letter.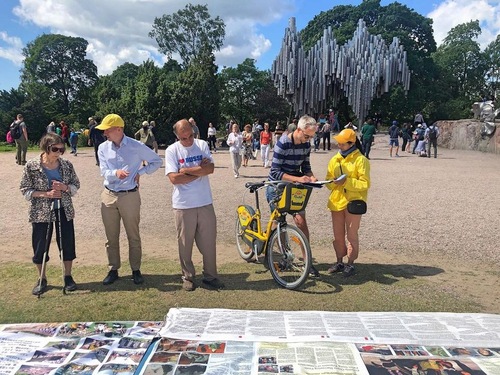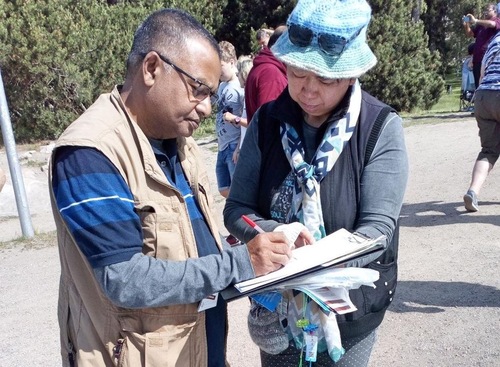 Tourists sign a petition opposing the persecution of Falun Gong.
Foreign Tourist: The Persecution Should Not be Happening
Paula, a local tour guide, said she had been told about the persecution of Falun Gong. She said, "What you are doing here is very important."
After a German tour guide explained to his group of tourists, a German tourist said, "Falun Gong shall be protected. When I learned more about the persecution, I realized how terrible it is. It should not happen at all."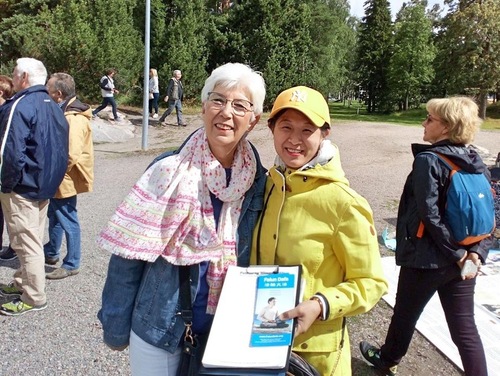 Reyhan (left) from Turkey
Zobar and Reyhan, a couple from Turkey, signed the petition and asked to take a photo with a practitioner to express their support.
Firner, an American tourist who had lived in Hong Kong, knows quite a lot about the persecution. He mentioned that a million Hong Kong residents participated in a parade in June, and said that the CCP most feared people finding out the truth.
Chinese Tourist: "Falun Gong is the hope for our nation"
A Chinese man took a newspaper and information explaining how to break through the Chinese regime's Internet firewall, to access information outside of China. He quit the CCP and thanked the practitioner who helped him, "It is not easy to come here every day. I believe that Falun Gong is the hope for our nation."
A mother from Shanghai brought her daughter to read the display boards, and told her that the information was not accessible in China, but is true.
Chinese tour guides also encouraged their groups of tourists to take and read the printed materials provided by Falun Gong practitioners.