Norwegian Library Incident Highlights Persecution in China
January 12, 2020 | By Hong Da
(Minghui.org) Meråker is a small town in Norway with a population of less than 3,000. But it became international news recently, as a delegation of skiers from China stayed there for training. Leaders of the delegation made several attempts to remove a book from the municipal library about Falun Gong, a meditation system suppressed in China.
The library said no. "We have freedom of speech in Norway so that was completely out of the question," said library manager Anne Marken Adresseavisen, in a regional newspaper in Norway.
According to Norwaytoday.info, the delegation includes over 40 Chinese skiers, plus 15 coaches and managers. "They [delegation leaders] have said that if any of the Chinese skiers are caught with these books, they are afraid that they would risk being sent to labor camp or prison in China," recalled Marken, who refused to remove the book.
This incident was reported by numerous news media and triggered broad discussions. Many readers were surprised how these Chinese people were not only brainwashed, but also forced their opinion on others, even in such a small town on the Eurasia continent.
Arrest for Reading Books Together
Although hard to believe in a Western society, confiscation of Falun Gong books is one of the tactics used throughout the past 20 years in China, where this practice is suppressed. When several elderly practitioners—most already in their 70s—were reading Falun Gong books together in Qishan County of Shaanxi Province on July 10 last year, 10 practitioners were arrested, their homes ransacked and personal belongings confiscated.
According to the Minghui website, while seven of these practitioners were soon released on bail, three of them are still detained, including Ms. Ya Lan, Ms. Xu Mingxia, and Ms. Jiao Binglan. Two of the practitioners released on bail, Mr. Shao and Mr. Zhang, were also forced to wear electronic monitoring bracelets. Furthermore, cases from 8 out of these 10 practitioners have been submitted to the local procuratorate. They are facing indictment. When summoning them recently, the prosecutor warned to give them long sentences unless they plead guilty.
A Book That Has Changed the World
The book, asked to be removed in Meråker, and read in Shaanxi Province is Zhuan Falun. As the main teaching of Falun Gong, it tells practitioners how to be better people by following the principles of Truthfulness-Compassion-Forbearance.
Since its introduction to the public in 1992, Falun Gong has been practiced in more than 100 countries, and received over 3,600 awards worldwide. Zhuan Falun was also translated into about 40 different languages. In a 2004 survey conducted by the Australian Broadcasting Corporation (ABC) for 100 most popular books, Zhuan Falun was ranked 14th and was the only book from the East on mind and body improvement.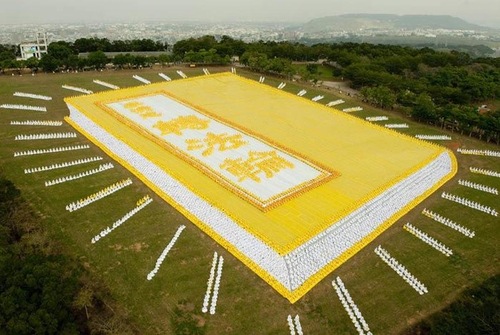 More than 6,000 practitioners from all over Asia gather in the Waipu District of Taichung City, Taiwan, on November 21, 2009, to form an image of the book Zhuan Falun.
Svetlana, 48, lives in Moscow. She always was interested to find the meaning of life. Because of that, she had traveled to monasteries, studied psychology and yoga, and even traveled to India hoping to find true teachers. Despite constant learning and seeking, however, she still had many unanswered questions, which led to anxiety and confusion.
Finally, she came across Falun Gong in 2009. The book Zhuan Falun, and principles of Truthfulness-Compassion-Forbearance helped her significantly. Her attitude has improved dramatically, and she is now happy and relaxed. "For 17 years, I had sought a spiritual practice that could uplift me," said Svetlana, "This is what I was looking for."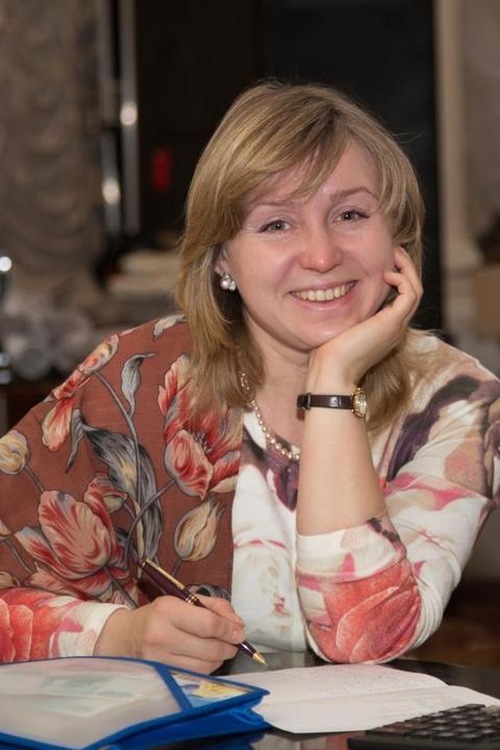 Russian Falun Gong practitioner Svetlana
The Power of Facts
Since the Chinese Communist Party (CCP), and former CCP communist regime head Jiang Zemin began to suppress Falun Gong in July 1999, Falun Gong books have been confiscated, and destroyed. Many practitioners were detained, imprisoned, and tortured for their belief.
In addition to blocking people from accessing Falun Gong materials, officials in China also mobilized nearly all news media producing countless propaganda to defame Falun Gong. One media story, proven to be a hoax, is the staged Self-Immolation Incident at Tiananmen Square. Unfortunately, continued hate propaganda in the past 20 years has misled a large number of Chinese people, turning them against Falun Gong.
As practitioners have kept telling people the facts about Falun Gong, and debunked the slanderous propaganda, many people have eventually learned what has really happened. Upon learning how the CCP harmed people throughout political campaigns, about 350 million Chinese have decided to renounce their memberships in the CCP and its youth organizations.
Back in the library of Meråker, Marken said the book would be there to stay. "I have said that the books in the library are open to them [skiers]. We cannot remove the contents of the library because of such requests," she added.
Related Reports:
Eight Shaanxi Residents Face Indictment for Reading Books of Their Faith Together