Taiwan: "Falun Dafa Practitioners' Unwavering Spirit Is Admirable"
January 12, 2020 | By Falun Dafa practitioners in Taiwan
(Minghui.org) The weather in Taipei has been warm and sunny with clear blue skies since the start of the new year. On weekends many people come out to enjoy the lovely winter weather and visit the National Sun Yat-sen Memorial Hall. Falun Dafa practitioners can be seen at the popular tourist destinations demonstrating the exercises and raising awareness of the persecution in China.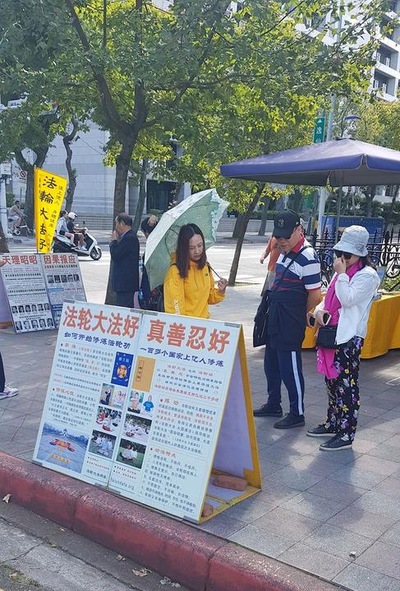 Practitioners display information on the persecution in China on the grounds of the National Sun Yat-sen Memorial Hall in Taipei, Taiwan.
A Teachable Moment
A mother and her little son stopped in front of the practitioners' display. She told her son, "These people use many ways to safeguard their belief and take a stand against the brutality against them in China. Falun Dafa practitioners' unwavering spirit is admirable. This kind of persistence, you must learn from them."
Tour Guide Sings a Song to Show Support
After showing a group of tourists around the park a tour guide sat next to the practitioners and took a break. He told practitioners that he now tells his tour groups, "When you visit Taiwan and don't see Falun Dafa practitioners, it means it's not a popular tourist attraction. You should avoid those places. I take you to the worthwhile attractions, where you'll run into Falun Dafa practitioners."
When his group gathered at the Falun Dafa display, he took the microphone from a practitioner's hand and began to sing a song he composed on the spot, "I love Falun Gong. We are all against communism. Welcome to the Sun Yat-sen Memorial Hall! Hurry up and quit the CCP!" His tour group all smiled and clapped.
Tour Guide: I Admire What You Do
Another group of tourists came. The guide and group leader also stopped for a rest at the practitioners' display. The guide told the practitioners, "You have a difficult job because you're trying to change the thinking of Chinese people who have been brainwashed by the communist government for so long. It's not easy. I admire what you do."
The group leader pointed to the display board and said, "This is why I never stop my tour groups from reading the information. I tell them you can read anything you want. The important thing is to remember what you've read."
Man Quits CCP After Learning the Truth
A middle-aged man from Nanjing, China walked up to the Falun Dafa display. He took his time and read all the information. When he was about to leave, a practitioner asked if he had any questions. He said that he finally understood why the communist regime persecuted practitioners. He said his parents were landlords. Their land was seized by the Chinese Communist Party and they were tortured. When the practitioner explained the significance of renouncing his membership in the Communist Party he agreed to quit it.
Elderly Man Praises Practitioners' Efforts
An elderly man riding a bicycle stopped by the display. He gave the practitioners thumbs up and said, "You have persisted in raising awareness for so many years. It's not easy. When Mr. Sun Yat-sen started the Chinese republic, it wasn't easy either. Don't let the Chinese communist regime infiltrate Taiwan. You are doing the right thing in exposing the evil nature of communism."