2019 Year in Review: Milestone Report Marks Twentieth Year of Persecution of Falun Gong
(Minghui.org) Falun Dafa, also known as Falun Gong, is an ancient spiritual discipline based on the principles of Truthfulness-Compassion-Forbearance. Since its founder, Mr. Li Hongzhi, introduced it to the public in 1992, it quickly gained popularity as its practitioners experienced significant improvement in health and character.
The Chinese communist regime initially supported the practice, but it began to attack Falun Gong and banned the publication of Falun Gong books in 1996. A group of volunteers in North America launched Minghui.org on June 25, 1999, shortly before the Chinese regime began to openly persecute Falun Gong on July 20, 1999.
Every day for the past 20 years, Minghui.org has reported firsthand information on the persecution of Falun Gong practitioners in China. It has also covered practitioners' worldwide efforts to counter the persecution and provided an online platform for the community of practitioners to share experiences and informational materials.
To enable more people to learn about Falun Gong, the newly formed Minghui Publishing Center will soon publish a new book, "The 20-Year Persecution of Falun Gong in China." This milestone report is based on firsthand information collected by Minghui.org from China and around the world, and a central theme highlights Falun Gong practitioners' unwavering perseverance in peacefully resisting the persecution.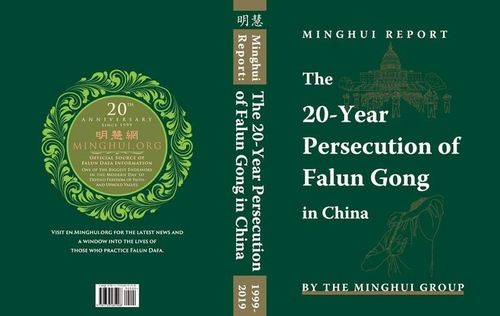 Cover of Minghui Report: The 20-Year Persecution of Falun Gong in China
In 2019 alone, 96 Falun Gong practitioners are confirmed to have died as a result of the persecution, bringing the confirmed death toll to 4,363. Additionally, 774 practitioners were sentenced to as many as 13 years in prison for their faith, and nearly 10,000 practitioners were arrested or harassed. Due to the Chinese regime's information blockade, the total number of practitioners deceased, sentenced, and detained is likely to be much higher.
Practitioners both inside and outside of China have been working hard to raise awareness of the persecution. They continue to call for an end to the abuse by Chinese authorities. Significant progress has been made in the U.S., Canada, and Europe to stop the forced organ harvesting of Falun Gong practitioners in China.
Minghui.org debuted an updated list of 105,580 perpetrators involved in the persecution of Falun Gong. The publication of the list augmented practitioners' worldwide efforts to hold perpetrators accountable. Practitioners in the U.S., Canada, New Zealand, Australia, and the United Kingdom submitted a portion of the list to their respective governments as many Western nations adopted the Magnitsky Act and vowed to hold foreign human rights violators accountable for their actions.
Public officials in many countries have expressed concern for the persecution and shown support for Falun Gong practitioners. In particular, the United States President, Secretary of State, United States Commission on International Religious Freedom (USCIRF), the U.S. Ambassador-at-Large for International Religious Freedom, and the Congressional-Executive Commission on China (CECC) have all either met with Falun Gong practitioners or issued statements calling to end the atrocities being committed against Falun Gong in China.
Falun Gong practitioners have continued to hold experience-sharing conferences both online and in person to encourage each other in the face of the persecution. During the annual international conference in New York, as well as the online China Fahui, practitioners shared how they lived by the principles of Truthfulness-Compassion-Forbearance and engaged in efforts to oppose the persecution.
Practitioners worldwide have also expressed their deep gratitude to Master Li for introducing Falun Gong to the public. They continued to introduce Falun Gong at public events around the world in 2019, enabling many newcomers to benefit from the practice.
Shen Yun, a classical Chinese dance and music company whose artists draw inspiration from Falun Gong, again delighted audiences in world-class theaters with its extraordinary artistry, storytelling, costumes, and backdrops.
Persecution Unabated in China
Ninety-six Falun Gong practitioners are confirmed to have died in 2019 as a result of the persecution, bringing the total of confirmed death cases to 4,363. Minghui.org launched a new website in June 2019 that presents a complete list of known persecution deaths, which is updated as new cases are reported.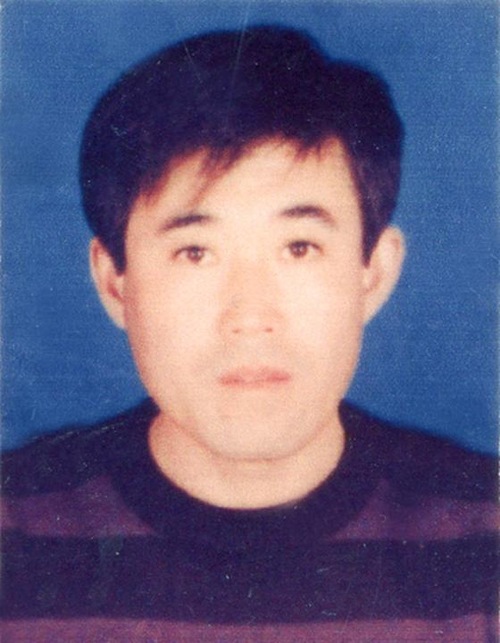 Mr. He Lifang, a Falun Gong practitioner from Jimo City in Shandong Province, died on July 2, 2019.
Mr. He Lifang from Shandong Province is one of the deceased practitioners. Because he refused to renounce Falun Gong, he was detained numerous times and almost beaten to death by 17 inmates. When he applied for an ID card on May 5, 2019, he was arrested and later subjected to force-feeding and possibly psychiatric abuse.
Over 200 police officers were dispatched between June 30 and July 3 to block local Falun Gong practitioners and his family members from getting close to the hospital. Mr. He died on July 2. He was 45.
In addition, Mr. He's eldest sister, Ms. He Shurong, died at age 50 in April 2014 after being twice given forced labor and once hung up and beaten for eight days in a row. His second older sister, Ms. He Xiuxiang, was sentenced to three years in prison in June 2015.
The year ended with 774 Falun Gong practitioners sentenced to prison, with their terms ranging from a few months to 13 years.
Mr. Zuo Hongtao, a resident of Qinhuangdao City, Hebei Province, was sentenced to 13 years in January 2019. Three other practitioners, including Mr. Wu Wenzhang, Ms. Li Guoai, and Ms. Liu Changfu, were arrested together with Mr. Zuo and sentenced to 11, 10, and 8 years, respectively. Mr. Zuo's wife, Ms. Cui Qiurong, who does not practice but is supportive of Falun Gong, was sentenced to 19 months. The police confiscated 150,000 yuan in cash while ransacking the couple's real estate company.
In addition to deaths and sentencing, nearly 10,000 Falun Gong practitioners were arrested or harassed for their faith in 2019. Many of the targeted practitioners were arrested in groups, usually of two or three dozen. In most cases, the police monitored the practitioners' cellphones and their daily activities for months before executing the arrests.
In Guang'an City, Sichuan Province, over 20 practitioners were arrested on April 23, 2019. More than 300 police officers were mobilized to arrest 18 practitioners in Zunhua City, Hebei Province, around 3:00 a.m. on July 6, 2019. In Wuhan City, Hubei Province, 40 practitioners, including an 89-year-old woman, were arrested on September 23, 2019, before National Day on October 1 and the 7th Military World Games between October 18-27 in Wuhan.
The 610 Office, an extralegal security force named after its founding on June 10, 1999, has played a critical role in the persecution through its central and local offices. A document received by Minghui.org in August 2019 indicated that local branches of the 610 Office in Liaoning Province were still active even though its central office was disbanded in 2018.
Continued Efforts to Raise Awareness of the Persecution
Falun Gong practitioners both inside and outside of China have been working tirelessly to raise awareness of and call for an end to the persecution since it began in 1999. Their efforts continued in 2019.
Inside China, since legal channels of appeal have been blocked to Falun Gong practitioners, they have resorted to creative means to expose the persecution. Their grassroots efforts include talking to people face-to-face, distributing informational materials such as calendars bearing messages about Falun Gong, hanging up banners and posting flyers, and mailing letters and sending text messages.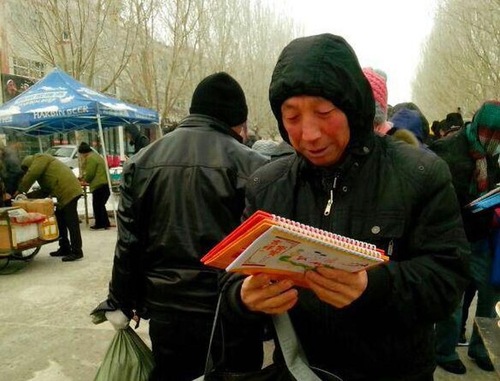 A customer at a farmers market receives a Falun Dafa calendar
As a result of practitioners' efforts, many people have quit the Chinese Communist Party and its youth organizations, including the Communist Youth League and the Young Pioneers. The number of people who have publicly severed ties with the CCP had reached more than 340 million as of December 31, 2019.
Outside China, practitioners held rallies, marches, and peaceful demonstrations to let the world know about the ordeals that their counterparts in China continue to endure.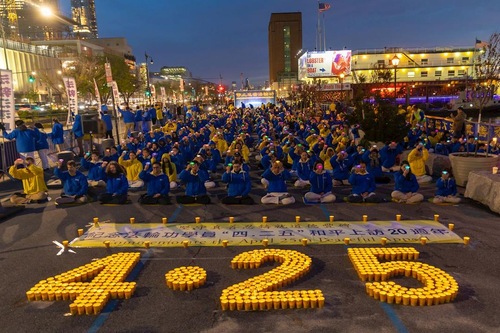 On the evening of April 20, 2019, practitioners in New York City held a candlelight vigil in front of the Chinese Consulate to commemorate the practitioners who had died in the persecution in China. They demonstrated the Falun Gong exercises during their solemn event.
During a candlelight vigil in front of the Chinese Consulate in New York on April 20, 2019, Ms. Li Dianqin talked about what she saw 20 years ago in Beijing as practitioners attended a peaceful appeal prior to the persecution's start in July 1999. Ten thousand practitioners quietly lined the sidewalk across from the central government's Appeals Office. The scene was quiet and orderly, and no one shouted slogans or blocked traffic, either on the sidewalk or on the street. When they left, the streets were cleaner than when they had arrived. Ms. Li said that she had heard one police officer say, "Look at how clean the ground is! That is true virtue!"
Practitioner Ms. Han Yu said that she misses her father, Mr. Han Junqing, who died three months after being arrested on May 4, 2004, for practicing Falun Gong. Ms. Han saw her father's body under tight police security. There were injuries on his face, and a piece of flesh below his left eye was missing. Her aunt and uncle managed to open up her father's shirt and saw an incision along the entire length of his abdomen. They peeked inside to see the abdomen filled with ice cubes and his organs missing. She said that over 100 officers surrounded them and that no cameras were allowed. Her father's body was cremated moments later.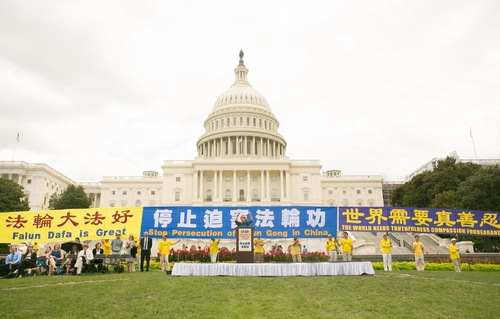 Falun Gong practitioners and supporters held a rally on July 18, 2019 to commemorate the 20th anniversary of resisting the persecution in China.
About 2,000 Falun Gong practitioners and supporters held a rally on July 18, 2019, on the West Lawn of the U.S. Capitol in Washington, D.C., calling for an end to the 20 years of persecution in China. Speakers at the rally described the two-decade journey as one of nonviolence, wisdom, tenacity, and creativity.
Freedom House credited Falun Gong practitioners' efforts as "giving energy to the work we here in Washington need to do." Many nonprofit organizations praised Falun Gong for providing hope and helping others who are not part of Falun Gong. Twenty-two U.S. Representatives sent letters of support to the rally.
Recent Developments in Fight to Stop Forced Organ Harvesting
Forced organ harvesting is one of the worst crimes committed against Falun Gong practitioners who refuse to renounce their faith. The year 2019 saw some new developments in the fight to stop the atrocity.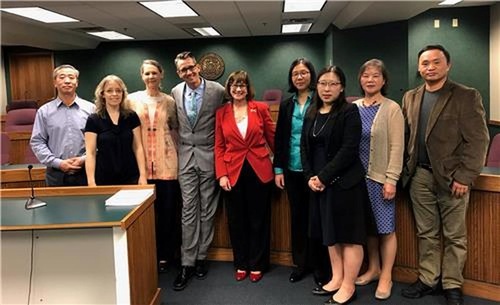 Missouri State Senator Jill Schupp (5th from left) and State Representative Ron Hicks (4th from left) take a photo with Falun Gong practitioners who testified at the House Homeland Security Committee Hearing for SCR 6 on April 9, 2019.
In Missouri, Senate Concurrent Resolution (SCR) No. 6 was voted on by the House of Representatives on May 15, 2019, making the resolution officially passed by the Missouri State Legislature.
The Canadian House of Commons unanimously passed bill S-240, which targets human organ trafficking, on the evening of April 30, 2019. The bill was introduced by the Senate and was already approved by the Committee on Foreign Affairs and International Trade (AEFA) prior to voting in the House of Commons.
In London, an independent people's tribunal announced its findings on June 17, 2019, that the Chinese Communist Party (CCP) has been harvesting organs from living Falun Gong practitioners in China for many years and that this brutality still continues today. Many news agencies covered the tribunal's final judgment on June 17, including Reuters, The Guardian, Newsweek, Forbes, ABC Radio Australia, and The Globe and Mail.
The 19th Congress of the European Society for Organ Transplantation (ESOT) was held in Copenhagen, Denmark, from September 15 to 18, 2019. The Chinese Communist Party's (CCP) organ harvesting from living prisoners of conscience again received widespread attention. ESOT is the umbrella organization under which transplant activities are structured and streamlined in Europe and elsewhere.
When the 147th Annual Meeting and Expo of the American Public Health Association (APHA) was held at the Pennsylvania Convention Center in Philadelphia November 2-6, 2019, many attendees learned about the Chinese communist regime's large-scale extrajudicial killing of prisoners of conscience and religious adherents for organ transplants.
Last but not least, based on U.S. laws that deny admission to perpetrators of human rights violations and coercive organ transplantation, practitioners in China began to collect information on hospital officials, doctors, and nurses involved in forced organ harvesting. The information could be used by the U.S. Department of State to tighten visa vetting and deny entry to perpetrators if applicable.
List of 100,000+ Perpetrators Augments Effort to Hold Persecutors Accountable
In November 2019, Minghui.org debuted an updated list of 105,580 perpetrators involved in the persecution of Falun Gong. The list contains the perpetrators' personal information and crimes committed against Falun Gong practitioners.
Compiling the list was made possible after many practitioners responded to a notice from Minghui in late May 2019 calling on Falun Gong practitioners throughout the world to "collect, compile, and submit to Minghui.org information on the perpetrators, their family members, and their assets, so as to locate and verify their identities."
In December 2018, Falun Gong practitioners in Canada submitted a list of perpetrators involved in the persecution of Falun Gong to the Canadian government based on Canada's Magnitsky Act, requesting that the perpetrators be denied visas and have their assets in Canada frozen.
In July 2019, practitioners in the United States submitted a list of perpetrators to the U.S. government. Two months later, practitioners in the U.S., Canada, United Kingdom, and Australia submitted an identical list of perpetrators to their respective governments, followed by practitioners in New Zealand in November 2019. The intelligence alliance among these five countries (known as the "Five Eyes") would effectively prevent perpetrators' escape to a safe haven as in the past.
Falun Gong practitioners turned to these governments because many Western nations share a common understanding that basic human rights, including the right to freedom of belief, must be protected. Laws have been instituted to prevent human rights violators from using these countries as a safe haven.
An official from the U.S. Department of State said in early 2019 that 28 countries have passed or planned to enact laws similar to the U.S. Global Magnitsky Act. This would allow a government to sanction foreign government officials for human rights abuses, providing for sanctions such as denial of entry and freezing of assets and financial transactions.
Support from Public Officials
With practitioners' persistent efforts to raise awareness of the persecution, many elected officials in the United States and other countries have expressed their support for practitioners and called for an end to the persecution.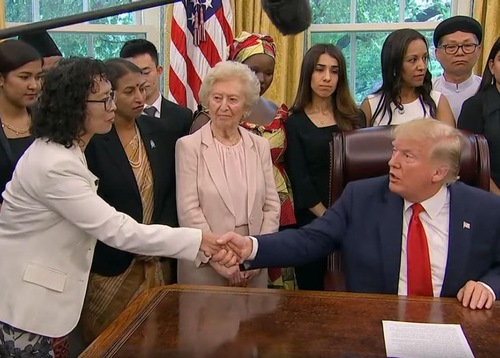 U.S. President Donald Trump talks with Falun Gong practitioner Zhang Yuhua in the Oval Office on July 17, 2019.
U.S. President Donald Trump met with 27 survivors of religious persecution from 17 nations on July 17, 2019. Among them was Ms. Zhang Yuhua, a Falun Gong practitioner from Jiangsu Province.
Vice President Mike Pence met with four representatives from persecuted Chinese religious groups in his office on August 5, 2019. They discussed how religious groups are being suppressed in China and what actions could be taken to address the issue. These representatives included Jeff Chen, a Falun Gong practitioner and spokesperson for the Minghui Publishing Center.
On June 21, 2019, the United States Commission on International Religious Freedom (USCIRF) published its 2018 annual report, which again designated China as a country of particular concern "based on the Chinese government's systematic, ongoing, egregious violations of religious freedom."
U.S. Secretary of State Mike Pompeo said at the report's release, "I'm proud to be here today to speak about the State Department's ongoing mission to advance international religious freedom." He emphasized that the Trump administration will make promoting religious freedom a "top foreign policy agenda" and continue to be the vanguard for international religious rights.
Sam Brownback, the U.S. Ambassador-at-Large for International Religious Freedom, made a statement on Twitter on July 29, 2019, "July 20th marked 20 long years since the Falun Gong was banned in China. Practitioners today still face persecution at the hands of the Chinese government, including arrests, torture, and the forced renunciation of their faith. The Chinese Communist Party's actions are unacceptable."
The Congressional-Executive Commission on China (CECC) issued a statement on July 20, 2019, urging the Chinese Communist Party to stop its ongoing persecution of Falun Gong. "For the past twenty years, Falun Gong practitioners have experienced appalling and unacceptable human rights abuses in China," said Representative James McGovern, chair of the CECC, and its co-chair, Senator Marco Rubio, in a statement.
Experience-Sharing Conferences
Despite the ongoing persecution, Falun Gong practitioners both inside and outside of China have held firm to their faith.
As in years past, the 16th China Fahui on Minghui.org offered an online platform for practitioners inside China to share experiences and exchange ideas. A practitioner in Michigan said he got a lot out of these articles: "I read every single one. It's such a precious opportunity for making collective improvement!"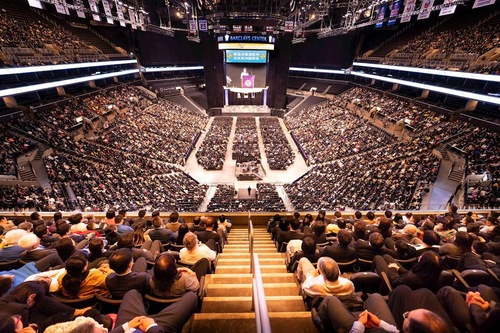 2019 Experience Sharing Conference in New York
About 10,000 practitioners outside of China gathered for the 2019 New York Falun Dafa Experience Sharing Conference in Barclays Center in Brooklyn on May 17, 2019. Master Li Hongzhi, the founder of Falun Dafa, gave a lecture and answered questions for approximately two hours.
Twelve practitioners—from New York, Boston, Atlanta, the United Kingdom, Germany, Israel, India, Japan, and Hong Kong—read their experience-sharing papers at the conference. Among them were veteran practitioners who had been cultivating for more than 20 years, as well as young practitioners who were quickly catching up and working on projects. The speeches were simultaneously translated into nine languages.
Gratitude Toward the Founder of Falun Dafa
Having benefited greatly from practicing Falun Gong, practitioners send greetings to Master Li, the founder of the practice, on special occasions every year to express their gratitude.
During the 2019 World Falun Dafa Day (which celebrates May 13, the anniversary of Falun Dafa's public introduction and Master Li's birthday), Minghui.org received greetings from practitioners and supporters in over 50 countries and regions across six continents. Around the Mid-Autumn Festival, a tradition for happiness and reunion, the Minghui website received more than 16,000 greetings to thank Master Li.
Another way practitioners show their gratitude is to introduce Falun Gong to others by holding public events.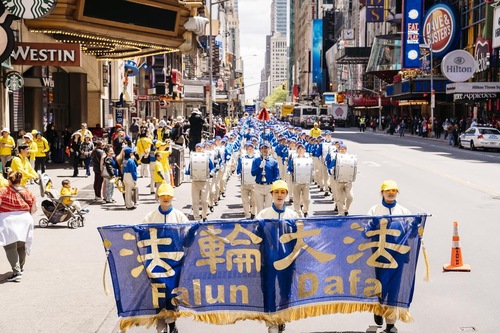 The Tian Guo Marching Band proceeds down the busy 42nd Street in New York City on May 16, 2019.
Nearly 10,000 Falun Dafa practitioners from dozens of countries walked through Manhattan on May 16, 2019, to celebrate the 20th World Falun Dafa Day. Two days later, about 5,000 practitioners gathered on Governors Island in New York to form a giant Falun emblem and the Chinese characters for "Truthfulness, Compassion, Forbearance"–the core principles of Falun Dafa.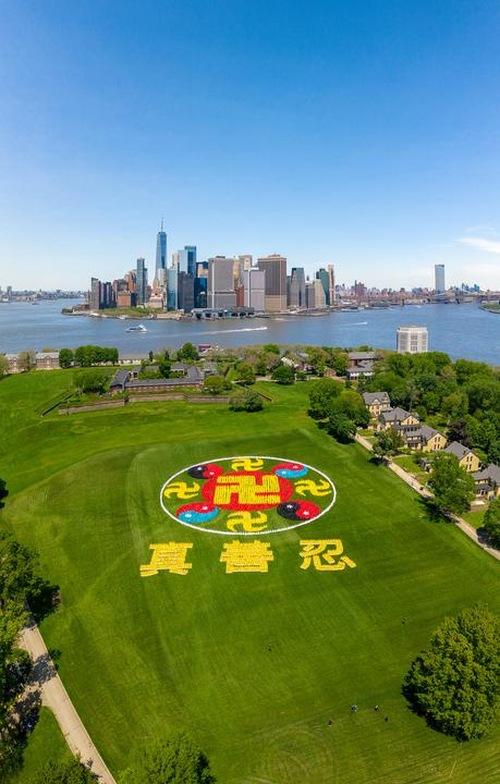 Character formation by 5,000 Falun Dafa practitioners on Governors Island on May 18, 2019. The Falun, or Law Wheel, is the symbol of Falun Dafa cultivation practice, while the three Chinese characters in the foreground stand for Truthfulness, Compassion, and Forbearance–the core principles of Falun Dafa.
New Practitioners Pick Up the Practice
Practitioners' efforts to introduce Falun Gong to their communities have enabled many newcomers to enjoy the benefits of the meditation practice.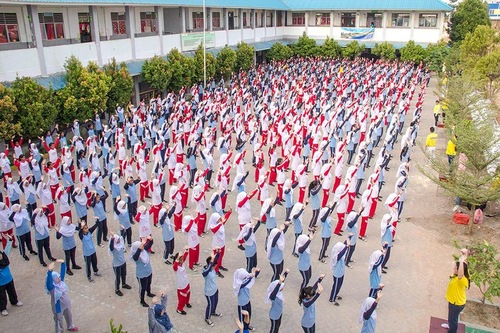 Approximately 500 students and teachers at the No. 38 Secondary School in Batam learn the Falun Gong exercises together on February 16, 2019.
The principal of the No. 38 Public Secondary School on Batam Island, Indonesia, had seen students practicing Falun Gong on a social media website and wanted to learn more about this mind-body cultivation practice from China. So he invited Falun Gong practitioners to introduce the practice to teachers and students on February 16, 2019. An art teacher remarked, "When I closed my eyes and listened to the music, I could feel the presence of light. I had injured my arm and could not lift it very high. However, after the fourth set of exercises, I can now lift my arm above my head. What a wonderful experience!"
The 57th nine-day Falun Dafa workshop successfully concluded on June 5, 2019, at the Tianti Bookstore in Seoul. At the end of the monthly workshop, participants shared their experiences. Almost all of the new learners experienced varying degrees of improvement in their health, which they credited to the Falun Dafa teachings and exercises.
Song Runxiang works at an IT company as a programmer. He'd always been interested in cultivation practice and found Falun Dafa while surfing the internet. After attending the workshop, he was impressed and said that Falun Dafa is a very good practice and helps one improve quickly. Having studied various qigong practices in the past, he said this was what he had been searching for. "It can achieve something in four days that would take other practices 20 years. My experience proves that Falun Dafa is extraordinary!" he said.
Shen Yun: Traditional Culture and Positive Energy
Shen Yun, a performing arts company based in New York with the mission to revive the 5,000 years of traditional Chinese culture, concluded its 13th annual tour in 2019 with its six companies touring 150 cities on five continents and presenting nearly 670 shows in front of over one million audience members.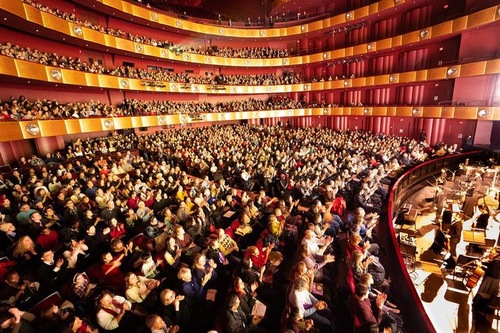 Shen Yun New York Company at The David H. Koch Theater at Lincoln Center in New York City on January 20, 2019. The company presented 14 sold-out shows in New York from January 10 to 20, 2019.
Trevor Loudon, an author, filmmaker, and public speaker, saw Shen Yun perform in St. Petersburg, Florida, on February 24, 2019. "Very inspiring, very spiritual and a very positive message... A fantastic production," Mr. Loudon said. "The thing that struck me more than anything was just the color. The bright, optimistic, whole palette of color that you saw."
"We are spiritual beings... We are put here on Earth with a mission. We've forgotten our mission but we've been forgiven. You know, you've still got a chance. You can still come through this, but we have to rediscover those virtues and rediscover our innate spirituality... The performance showed to me the good will overcome evil, and that we have to keep persevering and show forbearance and carry on. And we can win this but we have to rediscover those virtues within ourselves."
Shen Yun added a new touring company in 2020, and its seven companies will present a brand new program in 150 cities across 19 countries with over 750 performances in the new year.