Russia: Falun Dafa Practitioners Gather to Study and Share Experiences
January 19, 2020 | By a Falun Dafa practitioner from Russia
(Minghui.org) During the New Year's holiday season, Falun Dafa practitioners in many cities across Russia held group exercises and study sessions. Participants included people from all walks of life and of different ages, including multiple generations of family and young couples. Some new practitioners shared both surprise and gratitude to experience better health and well-being after learning Dafa.
Practitioners in Naberezhnye Chelny: Peace and Energy
This is the first time practitioners read the Falun Dafa teachings together in Naberezhnye Chelny, a major city in west-central Russia. Practitioners from the nearby Izhevsk, Kazan, and Almetyevsk also joined the event.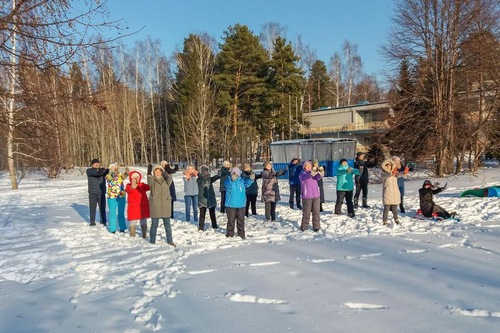 Practitioners gathered in Naberezhnye Chelny in west-central Russia for group study and exercises.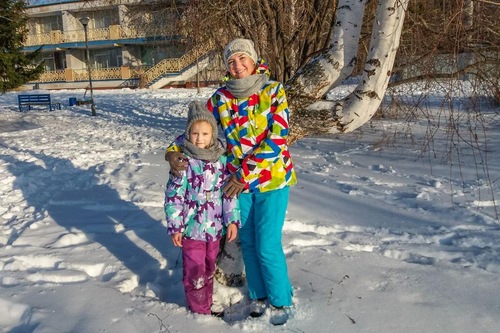 Alsu Khusainova and her daughter traveled from Kazan.
Alsu Khusainova from Kazan said she'd been practicing Dafa for less than a year. "But I've already experienced a huge difference in my life," she said. In the past, she often complained that her mother made a mess and didn't keep the kitchen clean. After she learned Dafa, Alsu said she stopped complaining. "When my mother also started practicing, she began to clean the house, so everything became harmonious," she added.
Following Falun Dafa's principles of Truthfulness-Compassion-Forbearance also helped calm Alsu's relationship with her daughter. "Because of pressure and trouble at work, I sometimes yelled at her. I'm now able to view things as cultivation opportunities. As a result, I no longer have resentment or complaints," she explained. "The relationship with my daughter improved not because I'm trying to suppress my emotion. Rather, it's because I no longer have negative feelings."
Alsu says every day now feels fresh and new. "I can feel the real changes inside me, and these are the best days of my life," she said. "Even if some trouble surfaces, I know it's a chance for me to improve. I am so thankful for every opportunity!"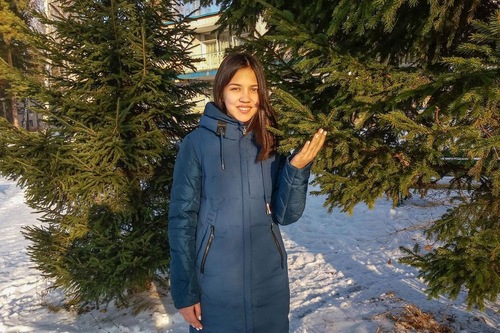 Elizaveta Sergeeva, 16, from Naberezhnye Chelny, said practicing Falun Dafa helped her set aside jealousy.
Elizaveta Sergeeva, 16, said she had benefited greatly since she began to practice Falun Dafa two years ago. She used to be jealous of her friend's creativity. "The principles of Falun Dafa helped me to understand that my friend's talent is an inborn gift. Even though I'm not so good at that, I have other strengths," she reflected.
Elizaveta said she felt peaceful energy while doing the five sets of exercises and reading the Dafa teachings. She also began to get along with her younger brother. "In the past I easily lost patience with him because he always seemed so immature. Now I've changed, and we both enjoy our relationship and good conversations."
East Siberia and Russian Far East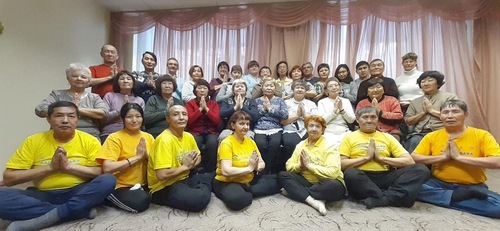 Practitioners in Ulan-Ude send New Year's greetings to Master Li Hongzhi, the founder of Falun Dafa.
Practitioners in Siberia and the Russian Far East gathered in Ulan-Ude for group study and discussion. They were joined by practitioners from Mezhdurechensk, Krasnoyarsk, Cheremkhovo, Angarsk, and Irkutsk.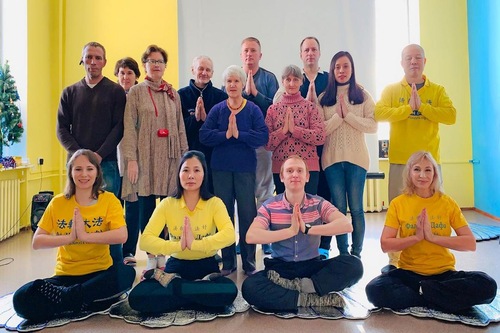 Practitioners gathered in Chelyabinsk to wish Master Li a happy new year.
Between Naberezhnye Chelny and Ulan-Ude, practitioners also gathered in Chelyabinsk to study the teachings and do the exercises.
Young Couple in Rostov-on-Don: Improving Both the Inner Mind and Outer World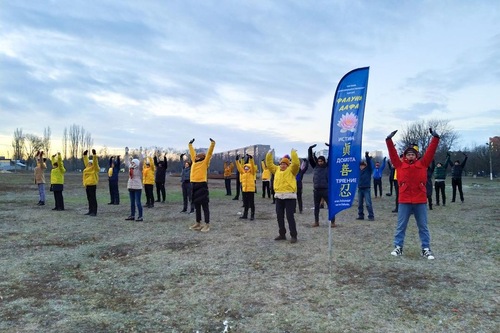 Practitioners in Rostov-on-Don do the exercises.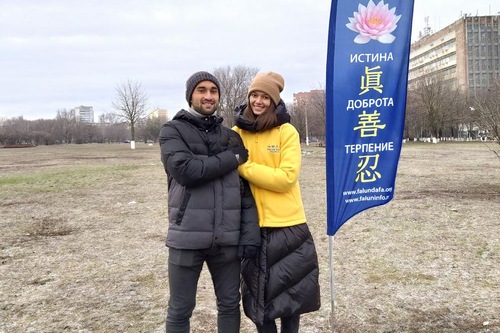 Alyona Podloznaya (model) and Sergey Tumasyan (professional football player)
A young couple from Rostov-on-Don in southern Russia, Alyona Podloznaya and Sergey Tumasyan, shared their understandings of Falun Dafa. As a professional model, Alyona travels often. When she was in New York about four years ago, she was introduced to Falun Dafa by another model, Pooja Mor.
"When I did the exercises for the first time, I could feel strong energy. I knew this was something I had been looking for all my life," Alyona recalled.
Since childhood, she always wondered why people come to this world and where they go afterward. When she grew up, these questions faded as she strove for fame and recognition. But wealth and fame could not compensate for her feelings of emptiness and loss. "Practicing Falun Dafa gives me peace and true wisdom, which makes my life bright," she said. "Of course I want to share this with all my relatives and friends."
She said she had learned a lot from other practitioners. "A practitioner told me her story, and from it I learned the importance of cherishing the blessings we receive from Falun Dafa. Even when things appear to be difficult, we should still be thankful for what we've received at all times," she said.
Sergey Tumasyan, a professional football player, said Falun Dafa helps him understand himself better. "Even when we run into conflicts at home, we should examine ourselves and improve ourselves. The problems will be resolved," he explained. Because of his profession, he often had a hard time controlling his emotions. "Falun Dafa helps me a lot. As my inner mind improves, the outer world around me also gets better," he said.
He said he appreciated the opportunity to participate in the group study and had learned a lot from other practitioners. "Some practitioners talked about their cultivation experiences at home. There are moments that even our closest family members can hurt us with their words or actions. But if we can stay compassionate and handle everything with a positive attitude, we can resolve the issues and everything is peaceful," he explained.
"After all, Falun Dafa gives us true compassion, which is so powerful that it brings both happiness and wisdom—both for ourselves and people around us."
Practitioners in St. Petersburg: Dafa Benefits the Entire Family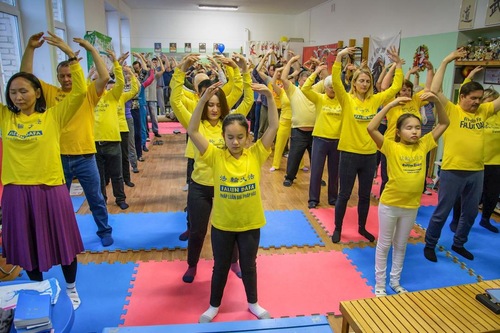 Group exercise in St. Petersburg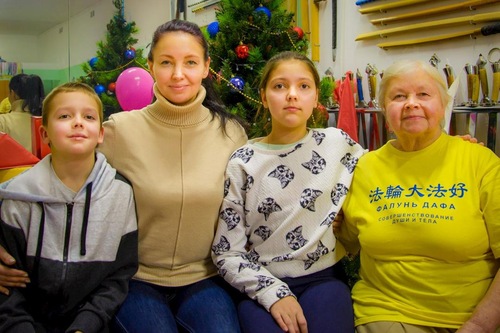 Nina Nikolaevna Klimova attended the event with her daughter and two grandchildren.
From January 5 to 7, practitioners attended three days of group study in St. Petersburg, the second largest city in Russia. Nina Nikolaevna Klimova joined the event along with her daughter and two grandchildren. Due to a series of illnesses 18 years ago, she suffered from a pinched nerve in her spine, a muscle disorder, and gastric ulcers. Frustrated by these conditions, she became depressed and short-tempered. Her state then led to problems with her endocrine and immune system.
"Thanks to Falun Dafa, all my illnesses were resolved," she said. "The principles of Truthfulness-Compassion-Forbearance also teach me to be a better person who cares about others." She also recalled that she used to be impatient during long car trips, constantly giving suggestions to the driver. Her family members said she became kinder and more tolerant after she started practicing Dafa.
Nina's daughter, Ksenia, is a mother of two and credits Falun Dafa for their happy family, which includes her children, Yana and Timur, as well as her husband. In the past, she was often anxious and had panic attacks. After she began practicing Falun Dafa, she could handle tense situations much more easily. "I don't know how I managed before," she said. "Now, whenever I run to problems, I examine myself instead of complaining about my husband or children. My children also began to practice." As a result, both children started doing better in school. They also became more energetic and less attached to browsing the internet.
Her daughter Yana said the principles of Truthfulness-Compassion-Forbearance are very valuable in her daily life. "My music teacher is also proud of my progress in flute," she said.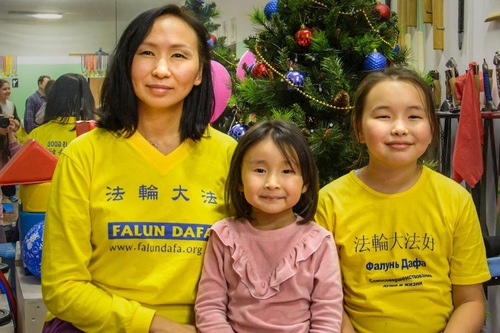 Tatyana Salakhi and her daughters
Tatyana Salakhi from Moscow is a mother of six. She and her daughters attended the group study in St. Petersburg. During a pregnancy ten years ago, her health declined, and her cousin recommended she practice Falun Dafa. "So I began to read the books and do the exercises. I felt much better, and the childbirth also went very well," she recalled. Although her baby girl had kidney problems, she recovered three months before a scheduled surgery. "I knew that my practice of Falun Dafa benefited my family too," she said.
Tatyana said her family relationships had improved dramatically. Her husband does not practice Dafa but is impressed by their children's health and their happy family. Tatyana says she frequently tells him stories about cultivation, and his outlook has also changed.
She said the group study environment benefits not only adults but also young practitioners. "My children learned how to tell right from wrong, along with forbearance and high morals. As my elder daughter becomes a better person, her younger siblings also follow her example, and they've improved a lot," Tatyana added.