South Korea: Practitioners Hold New Year's Events and Group Study at Seoul City Hall
January 19, 2020 | By a Falun Dafa practitioner in Seoul
(Minghui.org) To better align with the principles of Truthfulness-Compassion-Forbearance in their daily lives, practitioners in the Seoul Capital Area (SCA) gathered to study the Falun Dafa teachings on January 5 and 12 at Seoul City Hall. They also took a group photo at the renowned Gwanghwamun Plaza and wished Mr. Li Hongzhi, the founder of Falun Dafa, a happy new year.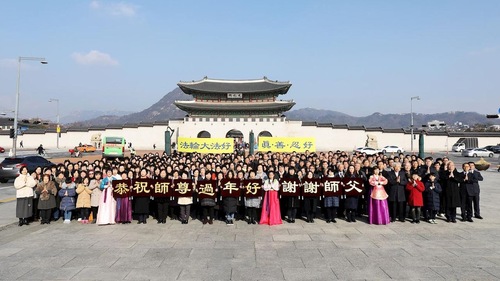 Falun Dafa practitioners from the Seoul Capital Area (SCA) gathered at Gwanghwamun Plaza on January 12, 2020, to wish Master Li a happy new year.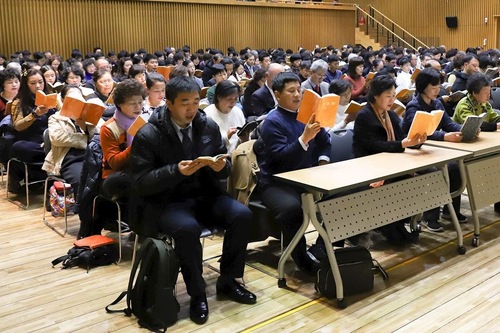 Practitioners read Zhuan Falun, the main text of Falun Dafa, at Seoul City Hall
Comprising Seoul, Incheon, and Gyeonggi Province, SCA has a population of 25 million and ranks as one of the largest metropolitan areas in the world. Gwanghwamun Plaza is next to Gyeongbokgung Palace, a top tourism and historic site in the region.
Ms. Choi, who is in her 50s, traveled to Seoul from Gyeonggi Province. For 30 years she suffered from a spinal disease and tried various treatments. To make matters worse, she encountered a car accident. While hospitalized, she met a Falun Dafa practitioner who was taking care of a relative. The practitioner did the Dafa exercises every morning at the hospital entrance. Ms. Choi was curious and learned the exercises from her.
Ms. Choi's back pain was gone after she did the exercises for the first time. She was released from hospital one week later and began going to a group exercise site near her home. She said old photos showed how severely her spine was curved before she started practicing Dafa.
"In Zhuan Falun Master mentioned that many people suffered a lot in order to learn Falun Dafa. I also began practicing after a lot of hardship," Ms. Choi said tearfully.
Ms. Liu, a successful entrepreneur, had a good life and a happy family. She later suffered huge financial losses because of her business partners' wrongdoings. She became depressed and emotionally exhausted. When she first encountered Falun Dafa, she thought the practice was "miraculous." As she continued to read Zhuan Falun, the main teachings, she was deeply impressed. "This is a true teaching that can guide people to high levels of cultivation practice," she said.
By following Dafa's principles, Ms. Liu became more tolerant and compassionate. "Many issues I worried about in the past no longer exist," she said during the Korea Falun Dafa Experience Sharing Conference in November 2019. "Calming down and improving my character helped me a lot. I'm now a positive person." In her spare time, she shares information about Falun Dafa with others, hoping more people will benefit from the practice as she has.