Germany: German People Experience Falun Dafa During International Culture Week in Lünen
Oct. 11, 2020 | By a Falun Dafa practitioner in Germany
(Minghui.org) This year's International Culture Week in Lünen, Germany coincided with the Moon Festival, and Falun Dafa practitioners celebrated this Mid-Autumn Festival with local residents. The largest local newspaper announced the upcoming activity and reported on it afterwards.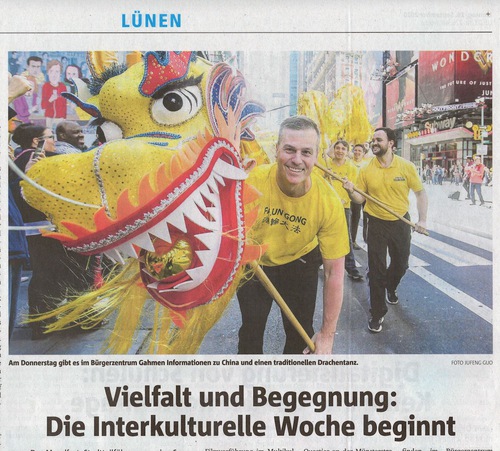 Lünen newspaper announced the upcoming Moon Festival celebration during International Culture Week.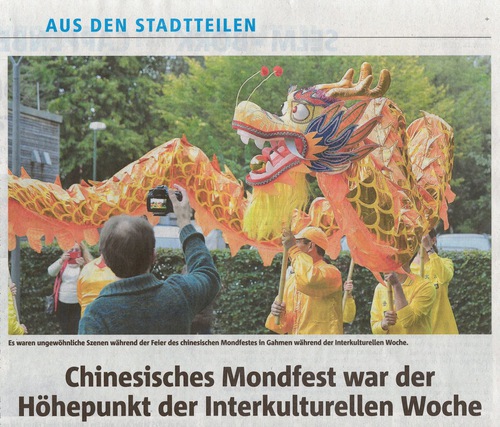 Lünen newspaper: Moon Festival celebration pushed International Culture Week to its climax.
Lünen Newspaper: Moon Festival Celebration Pushed International Culture Week to its Climax
The International Culture Week in Lünen began as scheduled despite the pandemic. "The epidemic can not stop our spirit of democracy," said Lünen's mayor, "With epidemic prevention measures in place, we can still show how colorful and open our city is."
One of the highlights of the week was the Moon Festival activities that Falun Dafa practitioners held. "The Chinese Moon Festival celebration pushed the International Culture Week to its climax," said Lünen's newspaper. The Moon Festival celebration was eye-catching. Immigration Commissioner Dr. Admi said, "We are so glad that we included practitioners' Moon Festival Celebration."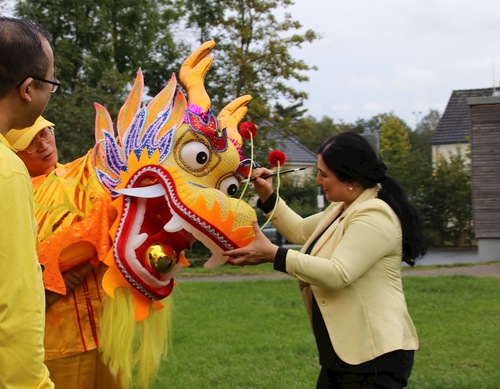 Dr. Admi draws the pupils into the golden dragon's eyes that Falun Dafa practitioners danced with.
Lünen's daily newspaper reported, "A golden Chinese dragon began to move after Dr. Admin drew the pupils into its eyes. Accompanied by Chinese music, it wound and danced around festival attendees. Sometimes it stretched itself and sometimes it curled up and dashed toward the children or other audience members. The dark clouds overhead parted and a huge rainbow emerged."
German People Experience Falun Dafa
"Tonight, we are all Chinese" was the theme of the Moon Festival Celebration. Local residents joined the practitioners' activities and learned the Falun Dafa exercises. During this pandemic, health has become especially important, and practitioners explained that practicing the Falun Dafa exercises effectively relieves stress and improves one's immune system.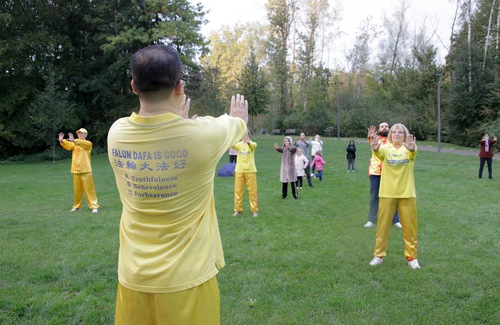 Festival attendees learn the Falun Dafa exercises
Some young western practitioners performed the dragon dance. Natalie said, "Practicing Falun Dafa improves my concentration and helps me in my schoolwork. I've become more sincere and upright. What's more important than a harmonious society that works well?"
Simon, 27, from Cologne said, "I think the benefit of practicing Falun Dafa is that you let go of negativity and change positively from a fundamental level. I appreciate Master for giving me this cultivation opportunity. I'm very grateful."
Satalina joyfully greeted Master in Chinese, and said, "I wish Master a happy Moon Festival. Falun Dafa is good. Thank you Master! Practicing Falun Dafa helps me realize my wish to live a sincere life. For example, when I thought I was treated unfairly, I checked myself to see if I did anything wrong. I think about how what I say impacts others and keep a peaceful mind. Practicing Falun Dafa also opens my heart and I no longer worry about many things."
Mr. Fan is an IT engineer. He's almost 50 years old but is energetic and looks like he's in his 30s. He said, "Falun Dafa is the most important part of my life. It brings me good health and improves my character. I meditate for an hour every night. I often feel a stream of strong energy flowing in my body while I meditate, and both my mind and body are thoroughly relaxed. I read Falun Dafa books every day, and often enlighten to profound cultivation principles.
"I try to meet the standards of a cultivator using Truthfulness-Compassion-Forbearance as my guide. I've let go of many attachments and desires. Uplifting one's character goes hand in hand with doing the exercises. Only when one's character improves and the mind becomes clean and clear, can one achieve the best result in doing the exercises.
"Because I refused to give up Falun Dafa, I was persecuted in China many times. I hope to bring the beauty of Falun Dafa to German people."
Practitioners also shared traditional Chinese music and explained how Chinese characters (writing) evolved. They read the story of Chang'e's flight to the moon, an ancient Chinese legend. A German musician played the music "Moon River" and people enjoyed a pleasant evening.