Germany: Locals Encourage Falun Dafa Practitioners in Cologne
Dec. 22, 2020 | By a Minghui correspondent in Germany
(Minghui.org) Falun Dafa practitioners in Cologne and nearby cities held an Information Day event at the Cologne train station on December 12, 2020. Despite the rain, they demonstrated the five sets of exercises and told people about Falun Dafa. The event also featured performances by a band and a waist drum team.
The event attracted many people, who signed the practitioners' petition to end the Chinese Communist Party (CCP)'s persecution of Falun Dafa as well as a petition to disintegrate the CCP.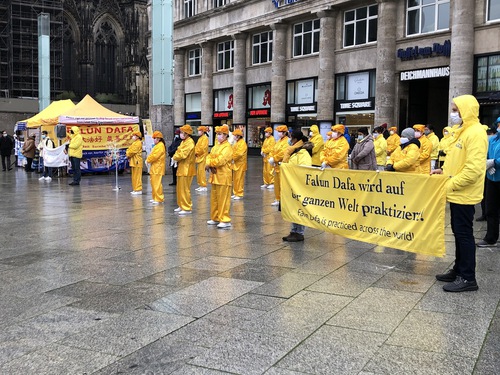 Falun Dafa practitioners hold an Information Day event in front of the Cologne train station on December 12, 2020.
People noticed practitioners demonstrating the exercises as soon as they exited the train station. Practitioners introduced the beauty and wonder of Falun Dafa while exposing the CCP's true nature and why it persecutes practitioners in China. Several passersby stopped, learned about the persecution, and signed the petitions. Many people photographed and recorded the events and posted it on social media.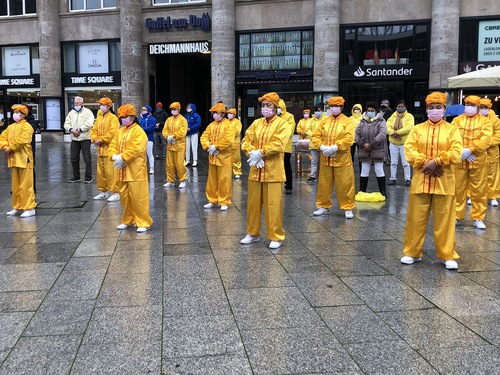 Practitioners demonstrate the Falun Dafa exercises.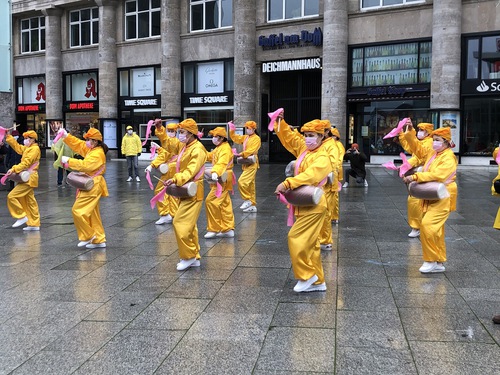 Performance by the waist drum team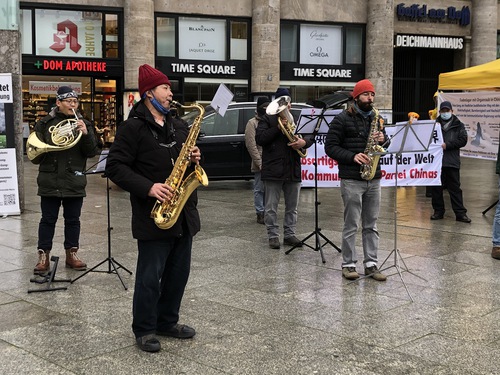 Passersby stop and listen to the band's lively performance.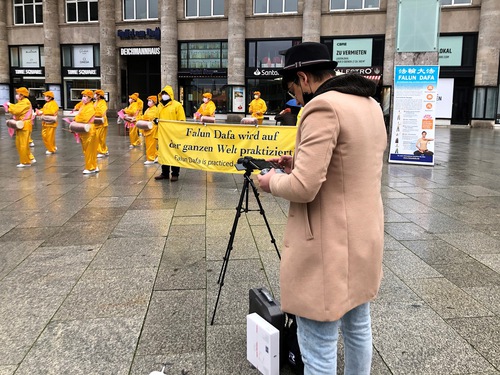 Many people filmed practitioners' performances, and some posted on social media.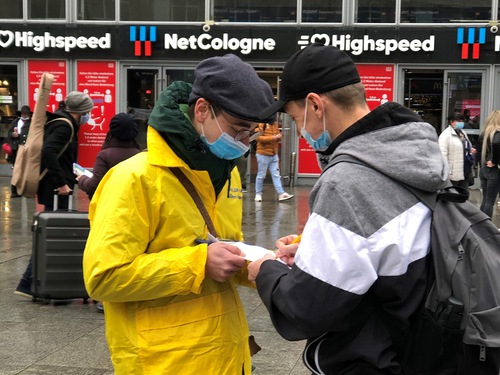 People sign the practitioners' petitions.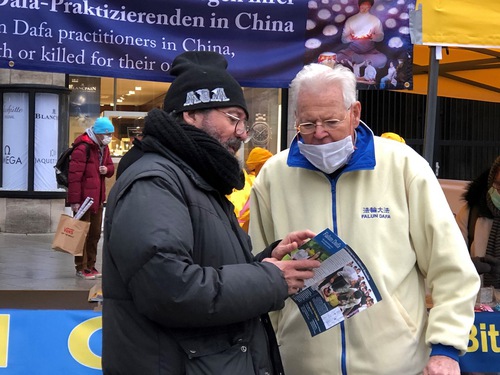 A passerby listens as a practitioner tells him about the persecution.
"Don't Give Up"
A woman who lives in Bonn stopped to watch as the practitioners did the exercises. She said in great admiration, "This is beautiful, so beautiful!" She walked over to the information booth and took down contact information for the nearest Falun Dafa group exercise site.
She said she'd seen information booths by Falun Dafa practitioners many times in the past. She knew the CCP persecutes practitioners and said she was happy to see such a big event. She encouraged them and said, "Don't give up!"
When a young man from Georgia heard about signing a petition to disintegrate the CCP, he immediately said, "We have to sign now!"
Falun Dafa Is What People Need Now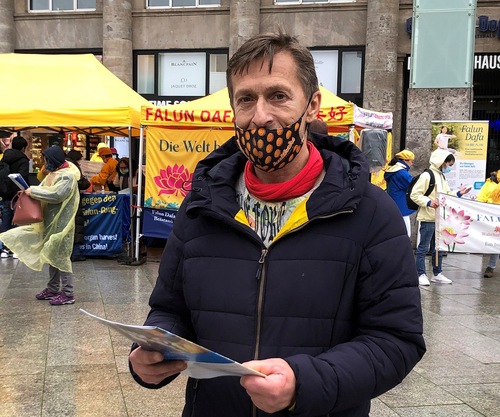 Mr. Joerg said that Falun Dafa is what people need now.
After signing the petition, Mr. Joerg stayed at the booth for a long time and watched practitioners perform the exercises. He said he heard about the CCP's forced organ harvesting from practitioners two years ago and researched the subject. As soon as he saw the practitioners' information booth, he came to learn more about Falun Dafa.
Mr. Joerg pointed to the three principles of Truthfulness, Compassion, Forbearance on the practitioners' big banner and said, "I am Catholic and I absolutely agree with this." He said, "Nowadays, the government of every country is talking about how harmful the coronavirus is. Many people feel stressed and scared, but when I see you doing the Falun Dafa exercises, you look very serene and peaceful. I think this is exactly what people need now. I absolutely support people taking a spiritual approach to life. I think you are doing a great job."
"If You Need Me, Just Give Me a Call"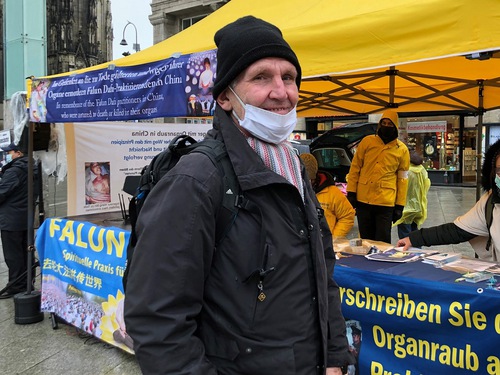 Mr. Rudolf offered to help Falun Dafa practitioners.
Mr. Rudolf came to the information booth and chatted with a practitioner for a long while. After learning the details of the CCP's persecution, he said, "I'm very worried about how CCP has taken over so many German enterprises. When I learned about the misfortunes of other countries in the so-called "Silk Road Economic Belt," I think the German government should be more vigilant."
He said, "I wish that people would not focus on economic benefits—instead they should pay more attention to Chinese people who are in need." He took two Christmas cookies from his bag and gave them to the practitioner to express his gratitude. He said, "You have my phone number. If you need help, just give me a call."
Just as the event almost ended in the afternoon, Mr. Rudolph came again and took some informational materials. He said he decided to share them with people around him and wanted to let them know about the persecution of Falun Dafa.
Teacher from Turkey: "I know what a dictatorship is like"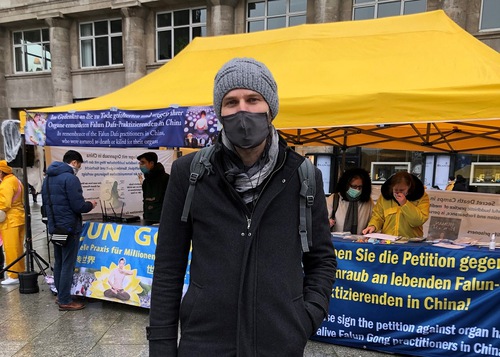 Mr. Kemal, a math teacher from Turkey, wishes practitioners all the best after learning about the persecution of Falun Dafa practitioners in China.
After learning about the persecution of practitioners in China, Mr. Kemal, a math teacher from Turkey, immediately signed the petition. He said, "I know what a dictatorship is like and how much harm it brings. I also know how much pressure people are under in that environment. I understand you. The situation in China does not look good." Before leaving, he repeatedly wished practitioners success and hoped they would collect many signatures.