Taiwan: Spreading Good News in a Crowded Park
February 15, 2020 | By a Minghui correspondent in Chiayi, Taiwan
(Minghui.org) In a series of festive activities held in the Cultural Park of Chiayi City on February 9, 2020, Falun Gong practitioners were seen promoting the health benefits of the practice to spectators. The practitioners demonstrated the calming exercises and distributed fliers that explained why the persecution of Falun Gong in China was wrong.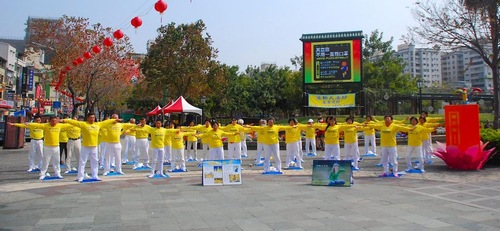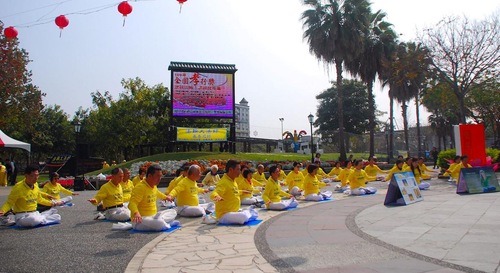 Falun Gong practitioners demonstrate the five exercises.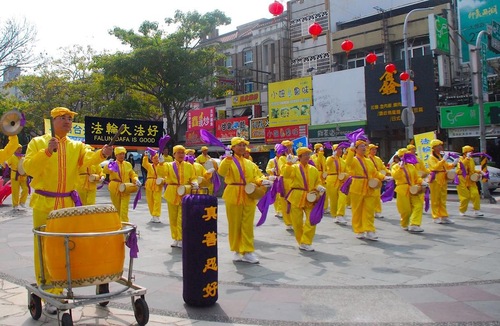 Falun Gong practitioners play the waist drums.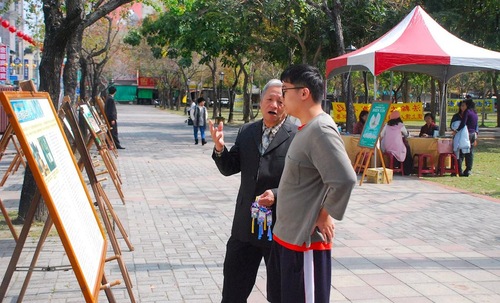 A practitioner explains to a visitor why the ongoing persecution of Falun Gong in China is wrong.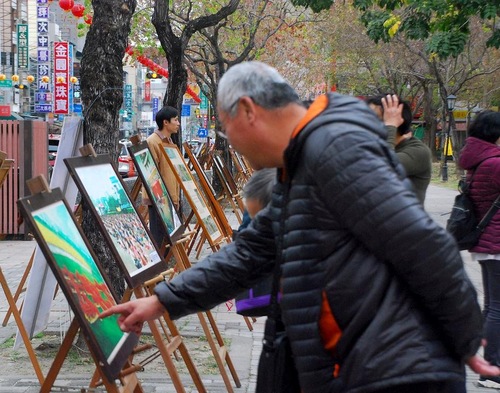 Passersby carefully read the Falun Gong posters.
The practitioners put up posters with photos of practitioners from around the world learning the practice. Other posters exposed the tortures suffered by practitioners in China during the past 20 years. Many people, after understanding the evil nature of the persecution, signed the petition calling for the Chinese Communist Party (CCP) to immediately stop the persecution.
To attract more visitors to the park, practitioners in yellow uniforms performed the Waist Drum Dance at the park entrance. The powerful drum beats and uniform movements were refreshing and were enjoyed by the spectators.
No More Back Pain
A new practitioner's chronic back pain disappeared a few months into the practice, and he was able to participate in the events.
He approached a spectator who was mimicking the movements of the practitioners demonstrating the exercises. The person told him, "The exercise makes me feel comfortable. The music was peaceful and relaxing. I very much want to join you in the park doing the exercises (every morning)."
Admiring Practitioners
Given the coronavirus epidemic in China and other Asian countries, many people chose to stay home, and have stopped their regular activities. A man signed the petition protesting the persecution and told a practitioner, "At a moment like this (Falun Gong practitioners) still come to the park to tell people the benefits of the practice, and the persecution. You are magnificent."
Persecutors Will Be Punished
While a young girl enjoyed getting a pretty paper lotus flower from a practitioner, her grandmother asked, "You all are so kind. Why does the CCP persecute the practice?"
The practitioner explained to her that the practice was made public in 1992 and gained wide popularity, because of its righteous teachings and miraculous healing effects. The Chinese leader at the time, Jiang Zemin, launched the persecution in 1999 out of jealousy, which resulted in the suffering of millions of practitioners and their families.
"The CCP is abominable and should be punished in order to bring peace to the world," said the grandmother.