Germany: Falun Gong Practitioners in Four Cities Raise Awareness of the Persecution in China
June 26, 2020 | By the Minghui correspondent station in Germany
(Minghui.org) Germany has eased its lockdown measures for the Wuhan coronavirus and gatherings are now allowed, so Falun Gong practitioners have again started to hold activities. On June 13, 2020, practitioners in southern Germany held activities in four cities in Bavaria and Baden-Württemberg.
Practitioners in Augsburg, Munich, Stuttgart, and Freiburg introduced Falun Gong to the public and told people about the Chinese Communist Party's (CCP) persecution of the practice. They explained how important it is to distance oneself from the CCP for a safe future. 
The German Government Should Condemn the CCP's Violations of Human Rights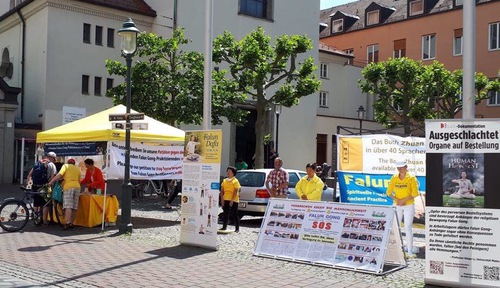 Falun Gong practitioners hold activities on Moritzplatz in Augsburg.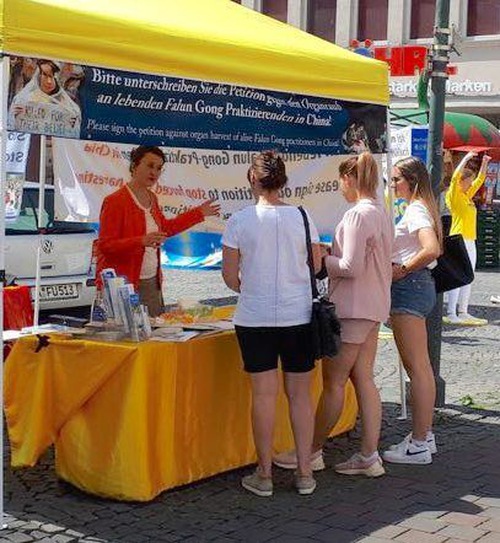 People learn about Falun Gong and the persecution. 
Falun Gong practitioners set up on Moritzplatz in Augsburg, which is not far from Munich. Many buses and trams passed by, and drivers and passengers could observe the practitioners' activities. 
Many pedestrians paused to learn about Falun Gong. A young man from Mexico signed the petition protesting the CCP's live organ harvesting. He told practitioners that he had studied Marxism and the theories of communism and understood very clearly that communism has harmed people all over the world. 
A man in his 40s signed the petition after reading about the CCP's live organ harvesting. He said that it was important for the German government to openly and sincerely condemn the CCP's human rights violations. 
Interest in Falun Gong in Stuttgart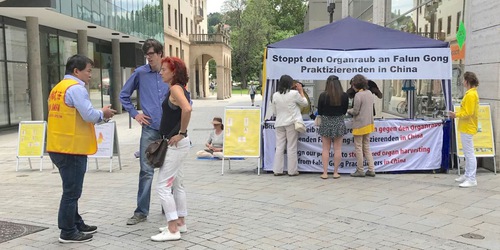 People learn more about the spiritual practice from a practitioner. 
On Königstraße in Stuttgart, a woman stopped at the Falun Gong booth and signed the petition. She said she was familiar with Falun Gong and had been practicing it for eight years at home. 
She said she had been interested in spiritual energy and had studied many books about the topic. She said that Falun Gong was the best, so she started practicing Falun Gong by herself and promoted it to her friends. A practitioner invited her to attend a local group practice site. 
A man who had studied Tantrism chatted with a practitioner for a long time. He said he was appalled to learn about the CCP's brutalities against Falun Gong in China. He signed the petition and asked for information about local practice sites. 
A woman from Switzerland paused to watch the exercise demonstration. She asked a practitioner why Falun Gong is persecuted in China and why practitioners in China were not holding marches to protest.
The practitioner explained that practitioners in China who peacefully appeal are arrested and imprisoned. Many have been murdered through the CCP's state-sanctioned live organ harvesting from prisoners of conscience. The lady was shocked and said she would read the flier carefully. 
A Pedestrian in Munich: The CCP is Inhumane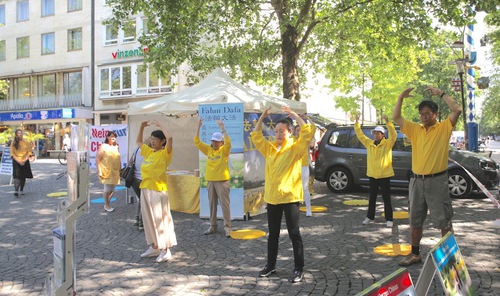 Demonstrating the Falun Gong exercises
Falun Gong practitioners held activities on Rotkreuzplatz in Munich for the first time. Some people they spoke with said they were hearing about the persecution for the first time. Many stopped at the practitioners' booth and signed the petition calling for an end to the persecution in China.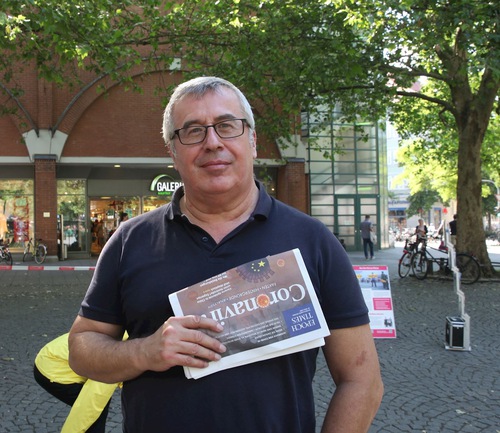 Wolfgang Büchner 
"I am signing the petition because China must respect human rights," said Wolfgang Büchner. He said people should not be persecuted or killed for their beliefs. He thought the CCP was inhumane to be doing live organ harvesting. 
He said he thought that such barbarism might have occurred 2000 years ago, but that it was crazy for something like that to occur in modern times. 
A Chinese Woman in Freiburg: "My Trip Outdoors Today Was Quite Worthwhile"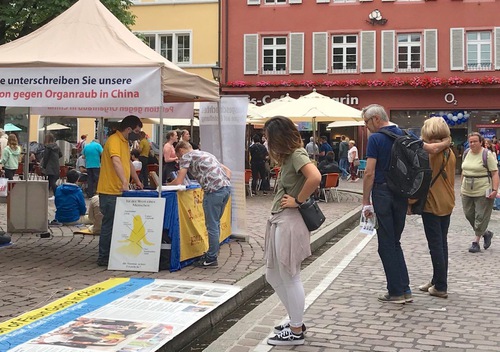 Practitioners hold activities to raise awareness on City Hall Square (Rathausplatz) in Freiburg on June 13.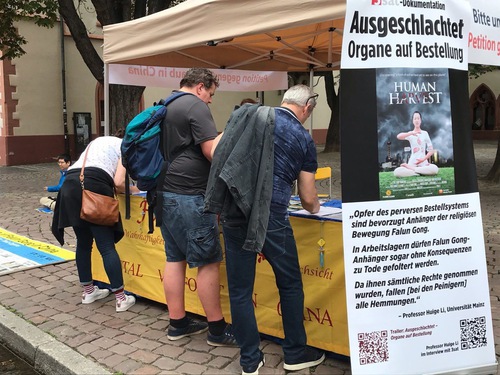 People sign the petition condemning the persecution. 
Freiburg is located on the edge of the Black Forest in southwestern Germany. It is close to Switzerland and adjacent to France. After learning about the CCP state-sanctioned organ harvesting from living Falun Gong practitioners, many people signed the petition to stop such crimes against humanity.
"I don't believe the CCP's propaganda," a young Chinese man said. "I came here to avoid its brainwashing." He had been passing by when he saw the banners and posters exposing the CCP's brutalities. 
A practitioner asked the man if he had quit the CCP and its affiliated organizations, explaining that people are withdrawing from the Party to have a safe future. He agreed to withdraw and thanked the practitioner. 
A woman from Tianjin, who has lived in Germany for many years, said she had been isolating at home due to the pandemic and did not go out very often. She saw the practitioners and talked with them for quite a while. 
A practitioner handed her a book, Nine Commentaries on the Communist Party. She said she had already learned about the CCP's persecution of Falun Gong and agreed to quit her membership in the CCP and its affiliated organizations. 
"My trip outdoors today has been quite worthwhile. Thank you," she said.