Qinghai Policeman and Wife Persecuted to Death for Their Faith, Father Died of Grief
June 3, 2020 | By a Minghui correspondent
(Minghui.org) Since the Chinese communist regime started the persecution of Falun Gong, a mind-body discipline based on the principles of Truthfulness-Compassion-Forbearance, in 1999, many practitioners have been arrested, imprisoned, tortured, or even killed. These practitioners come from all walks of life, and one of them was a police officer from Qinghai Province.
Mr. He Wanji worked as a policeman for the security section in the Railroad Division Police Department, Xi'ning City. He and his wife, Ms. Zhao Xiangzhong, were repeatedly arrested for refusing to renounce their faith in Falun Gong. They were later both persecuted to death.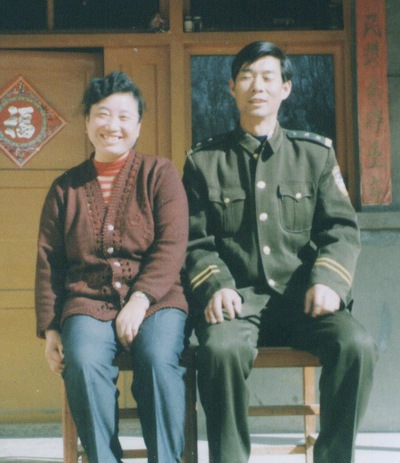 Mr. He Wanji and his wife, Ms. Zhao Xiangzhong
Below is an account of the family's persecution:
Mr. He came across Falun Gong in 1997 while on a business trip and introduced the practice to his wife, son, parents, and brother after returning home. He recovered from a brain tumor and various illnesses while his wife was cured of nephritis (inflammation of the kidneys), migraine, arthritis, and other diseases. 
Since practicing Falun Gong, Mr. He became very dedicated to his work and received high praise from his colleagues and management. He was publicly recognized many times as a model worker and a proactive member of the union.
However, after the persecution of Falun Gong started in July 1999, Mr. He and his wife were repeatedly arrested. Mr. He was sentenced to 17 years in prison on December 30, 2002, for participating in the television interception to broadcast the truth of Falun Gong and died on May 28, 2003. His wife died at home on February 22, 2003, after being released from the labor camp. When Mr. He's mother and his brother were detained, his father died from grief.
Couple Sent to Forced Labor Camp
Mr. He went to Beijing to appeal against the persecution of Falun Gong in 2000 after his employment was terminated without reason and he had no other means to appeal. He and his family were received by the Central Appeals Office and police at Tiananmen Square when they went to Beijing in March 2000, but what awaited him and his wife back home was a year of forced labor for both of them.
After a year at the forced labor camp, Mr. He's job was not reinstated. He and his wife went out to tell people about Falun Gong and were arrested three months later. The couple was subjected to beatings and Mr. He's back and legs were beaten until they were purple in color, and he was unconscious for the whole day.
The couple was later both given three years in a forced labor camp. When he was sent to the forced labor camp, Mr. He was beaten until he had great difficulty walking.
Mr. He once published his account of persecution on Minghui.org: 
"Several police officers brutally beat my wife, Zhao Xiangzhong, and me while I was being processed for the forced labor at the Huangzhong County Public Security Bureau on June 18, 2001. That afternoon, officers from the Tianjiazhai Police Station under the Huangzhong County Public Security Bureau tore off our shirts, grabbed us by the hair, and hit our heads against the wall next to the entrance of the police station. I passed out instantly. 
"That evening the police on duty again beat me while I was detained as a felon in the Huangzhong County Public Security Bureau Detention Center. He did not stop even after he punched me in the face and head. He ordered several inmates to take turns beating me. I again passed out. When I woke up I was lying on the ground in front of the 'Officer on Duty Room' of the detention center. I had a severe headache and nausea, as well as sharp pains in my lower back and legs. I could only limp along at mealtime.
"During my detention, I asked detention deputies many times to have my injuries seen to, but one gave me any reply. By the time I was transferred to Duoba Forced Labor Camp, there were still numerous scars and bruises left from their torture on my lower back and legs. The torture caused permanent damage, including chronic headaches, nausea, sharp and unbearable pains in my lower back, and numbness in my limbs. I reached a point where I could no longer take care of myself. Lumps developed in my wife's left breast due to the beating."
After the couple was sent to the forced labor camp, the police ransacked their home multiple times at night. 
When Mr. He was imprisoned at Qinghai Forced Labor Camp, he was once held in solitary confinement for seven days. He was released ahead of time after he was forced to write a guarantee statement. 
Wife Persecuted to Death
Ms. Zhao refused to cooperate with the police and suffered brutal torture while serving the three-year labor camp term. She was released on parole within three months due to a severe illness.
During the Chinese New Year in 2002, Ms. Zhao was abducted and returned to the labor camp a third time. She was held in an isolated cell for 15 days and then released because of illness.
The fourth time was prior to the convention of the Party's 16th National Congress in November 2002. A total of six police vehicles were sent to surround Mr. He's home. The entire family was abducted and held in custody, including two girls of Mr. He's relatives—a 12-years-old and a 2-year-old—who was temporarily visiting Mr. He's home. They were arrested and detained for over 12 hours.
Ms. Zhao was detained in solitary confinement at the forced labor camp and subjected to brutal torture. The only place to sleep was on the cold, hard concrete floor. When she was released 20 days later, she could not walk, her lower body was numb, and she suffered severe chest pain. She was emaciated and could not eat or drink. She became paralyzed in bed and in serious condition. She died on February 22, 2003.
Mr. He Persecuted to Death After Being Sentenced to 17 Years in Prison
In August 2002, within a period of three days, practitioners successfully broadcasted two video clips of the facts about Falun Gong over cable TV in Xining City, Qinghai Province, and in certain areas in the Lanzhou region, Gansu Province. The broadcast lasted half an hour. 
These television broadcasts greatly shocked the Chinese officials. After viewing the video clips, many people learned the truth of the persecution suffered by Falun Gong practitioners. Jiang Zemin, the former dictator who launched the persecution of Falun Gong, gave a hard deadline for solving the problem, leading to the arrest of fifteen Falun Gong practitioners, and among them was Mr. He.
The authorities used torture to induce confessions from these practitioners. On December 30, 2002, during the courtroom trial for four practitioners who were involved in the TV broadcast incidents, including Mr. He, many people witnessed that the practitioners had marks on their bodies from the various forms of torture.
The practitioners were given 7 to 20 years in prison by the Intermediate Court of Xining City. Mr. He was sentenced to 11 years for "Felony using an organized cult to interfere with law enforcement," and another 9 years for the "Felony of destroying TV broadcasting equipment." He was ordered to serve a combined 17 years. 
The practitioners immediately lodged their appeals. 
In Mr. He's complaint, he wrote that Falun Gong teaches people to practice compassion and the practice has been highly regarded by the country's General Administration of Athletics and was warmly welcomed during the 1992 and 1993 Beijing Qigong and Health Expo. He added that Falun Gong received the one and only top "Award for Advancing Boundary Science" at the 1993 Beijing Qigong and Health Expo and Falun Gong's main text, Zhuan Falun was one of the most popular books enjoyed by millions of people both in China and around the world.
Mr. He said that he had been following the book's teachings to be a good person and had indeed accomplished this on his job to safeguard the rail transportation operation.
In the complaint, Mr. He also pointed out that Falun Gong practitioners had sought peaceful means to clarify the facts about Falun Gong according to the constitutional right guaranteed under the Constitution of the People's Republic of China and the TV interception method was also based on the constitution and the spirit of the U.N. Covenant on Economic, Social and Cultural Rights. He added that the contents of the TV interception were all facts, and what it discussed was the truth.
In January 2003, the Qinghai Province People's High Court upheld the sentences. Mr. He was later incarcerated in the Haomen Prison in Haibei Tibetan Autonomous Prefecture.
Mr. He was still very healthy when his relatives visited him in prison in April 2003. However, his family received a notice on May 28, 2003, that he had died of a stroke, though his family suspected foul play.
When the relatives went to retrieve Mr. He's body on that day, they noticed blood oozing out of his nose, his right arm was showing wounds with green and purple colors, and there were spots, which looked like injection points. The police demanded "treatment fees" of 30,000 yuan. The family members refused to pay. The family members negotiated with the prison officials and finally paid five hundred yuan for funeral expenses.
Mother and Brother Detained, Father Died of Grief
Mr. He's mother, Ms. Zhao Yulan, and his younger brother, Mr. He Wanzhu, were also persecuted for practicing Falun Gong.
His mother was detained for 40 days in 2001 when she visited him at the Qinghai Labor Camp to deliver Falun Gong's latest teachings. His brother's home was ransacked in 2002 by officers from the 610 Office. The police confiscated over 6,000 yuan in cash. He was later given three years of forced labor.
After Mr. He was persecuted to death in 2003, his son, who worked in a fire brigade, was transferred out of Xi'ning City to a remote area under the instructions from the head of the Qinghai Province Public Security Department, and then forced to leave his job. 
Mr. He's elderly father, Mr. He Shou'an, who was in his 80's, died on the ninth day after the Lunar New Year of 2004 as a result of the stress and sorrow.
In the middle of the night on May 13, 2004, six police officers from Qinghai Huangzhong County Public Security Bureau and local police stations broke into Mr. He's mother's home and ransacked the place.
She was arrested and pushed into a police car. While dragging her by the handcuffs, her wrists were cut by the handcuffs and her hands were covered with blood.
After arriving at the detention center, she saw three other practitioners from her village. The policemen were getting ready to take notes and make records. On the following day, a policeman came and asked her if she would still practice Falun Gong. She said yes, and the policeman kicked her really hard.
The four practitioners were taken to a wheat field to pull weeds before they were released 15 days later after paying 150 yuan.
In 2015, Mr. He's mother filed a criminal complaint to the Chinese Supreme Court and Supreme Procuratorate against former Communist Party head Jiang Zemin for his role in the persecution of Falun Gong.
Related reports:
Four Dafa Practitioners Involved in the Qinghai Television Interception Incident Are Illegally Given Heavy Sentences
Account of the Persecution Suffered by the Family of Practitioner He Wanji in Qinghai Province
Falun Dafa Practitioner Zhao Xiangzhong Dies as a Result of Persecution Suffered at the Women's Forced Labor Camp in Qinghai Province
Dafa Practitioner He Wanji from Qinghai Province Tortured to Death
Complaint Filed by Dafa Practitioner He Wanji, Who Was Later Tortured to Death for Participating in TV Broadcast Interception
Fifteen Practitioners Suffer Persecution After the 2002 Truth Clarification Television Broadcast in Gansu Province
Family Decimated by Persecution: Husband and Wife Tortured to Death, Mother Detained, Father Dies of Grief
A 72-Year-Old Practitioner Validates Dafa with Righteous Thoughts and Righteous Actions
Over Seventy Lawsuits Against Jiang Zemin Filed from Xining City, Qinghai Province
Intercepting TV Signals in China: A Look Back at Falun Gong Practitioners' Peaceful Resistance to the Persecution