Jiangxi Woman Suffers Brutal Persecution for Her Faith
July 7, 2020 | By a Minghui correspondent from Jiangxi Province
(Minghui.org) A 70-year-old woman has been brutally persecuted for the past 20 years for her faith in Falun Gong. She was arrested five times and subjected to forced labor terms twice, for a total of four years and nine months. She was tortured with various methods while detained, including brutal force-feeding, beatings, and brainwashing.
Falun Gong, also known as Falun Dafa, is an ancient spiritual and meditation discipline that has been persecuted by the Chinese communist regime since 1999.
Ms. Xiao Genxiang is a retiree from Hongdo Group Corporation of Nanchang City, Jiangxi Province. She began practicing Falun Gong in 1996 and remains steadfast to her faith, despite harsh persecution.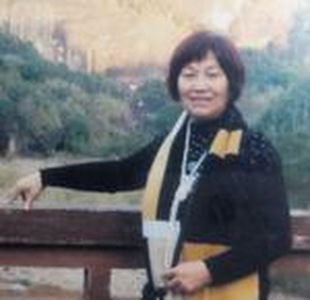 Ms. Xiao Genxiang
Brutally Tortured During First Forced Labor Term
Ms. Xiao went to Beijing to appeal for the justice of Falun Gong in November 1999 and was detained for five days. She tried again a month later and was arrested again. She was later given an 18-month forced labor term and sent to the Jiangxi Province Women's Forced Labor Camp.
She refused to renounce her belief at the labor camp. She was brutally force-fed when she held several hunger strikes to protest the persecution. Once she strongly resisted during a forced-feeding session, and the guards pulled her hands so hard that the skin between her index finger and middle finger was torn apart and bled profusely. During another forced-feeding session, the guards deliberately pulled the insertion tube back and forth to torment her until blood gushed from her nose.
Ms. Xiao was often beaten for doing the Falun Gong exercises. The guards sometimes grabbed her hair and banged her head against the wall. She often had bruises all over her face and hands. She was also hung by her handcuffed wrists several times and beaten. Once one of her legs was injured so badly that she walked with a limp as a result.
Ms. Xiao was not released until three months after her term expired.
Humiliation During Detention
Ms. Xiao was arrested again in late October 2001, shortly after being released from her first forced labor term for distributing pamphlets that exposed the persecution of Falun Gong. She was taken to Qingyun District Police Department of Nanchang and interrogated there.
Since she refused to give out any information, she was suspended by her handcuffed wrists, with her feet barely touch the ground while a male chief police officer beat her. By the third day, she had become unable to stand steadily to undress herself to use the restroom. A male officer insisted on "helping her" by taking off and putting on her pants for her. The torture lasted for five days and four nights.
Ms. Xiao was transferred to a detention center on November 1, 2001, and detained there for 15 days. She was then sent to a brainwashing session where she held a hunger strike to protest the illegal detention. She was released a month later.
Forced Labor Term of Three Years
Ms. Xiao was arrested at home on February 8, 2002, and taken directly to the Jiangxi Province Women's Forced Labor Camp again to serve a three-year term.
Falun Gong practitioners at the labor camp were not given enough food, and every meal included only a small portion of a steam bun or rice.
Ms. Xiao was put in solitary confinement in early 2004 as an effort by labor camp officials to force her to give up her faith. She was forced to stand up from 6:00 a.m. to 2:00 a.m. the next day with her hands kept behind her back. While standing, she had to watch the video programs that defamed Falun Gong. Two weeks later, the labor camp director and division chief took turns talking to her all day until midnight, to threaten her. The talks lasted five days.
During another brainwashing session, to mentally torture Ms. Xiao, the labor camp guards put up posters with words insulting Falun Gong's founder on her back, her bed headboard, and the restroom door. They also put them on the restroom floor and dragged her there to step on them. On some nights, they forwarded the clock two hours fast at dawn and forced Ms. Xiao to get up at 4:00 a.m. to clean.
The labor camp officials also instigated Ms. Xiao's husband to divorce her, so as to pressure her more.
Fifth Arrest
Ms. Xiao and two other practitioners were arrested on April 29, 2010, when they were distributing Falun Gong materials in Zhangshu City, Jiangxi. All three were beaten while in custody. A police officer kicked Ms. Xiao on the knees to force her to kneel down. Another officer tied up her hands and interrogated her. When she refused to answer the questions, the officer hit her head and face with a thick book.
The three practitioners were later taken to Zhangshu City Detention Center and detained there for two weeks.