Surviving Lung Cancer (Part II)
——A Series of Stories about Falun Dafa's Healing Power
(Minghui.org) Lung cancer is the most lethal of cancers. According to the latest data released by the International Agency for Research on Cancer (IARC) of the World Health Organization, 19.29 million new cancer cases were reported worldwide in 2020, including 4.57 million new cancer cases (23.7% of total cases) in China.
Despite the fact that cancer is still a difficult problem for modern medicine to overcome, many people have recovered quickly through the practice of Falun Dafa. Below are several such stories.
(Continued from Part I)
Dying Mother Recovers from End-Stage Lung Cancer
Falun Dafa practitioner Ms. Wu Yanxia was a senior lecturer at the Tianjin Landscape Architecture School. In 1996, when Falun Dafa was popular throughout China, people were practicing everywhere in the streets and alleys of Tianjin, and many organizations and enterprises had exercise sites inside. It would not be an exaggeration to say that "there was an exercise site every 100 meters" to describe the prevailing popularity.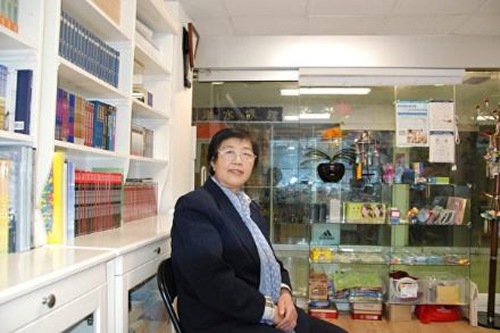 Ms. Wu Yanxia at the Tianti Bookstore in Toronto
There was an exercise site at the Tianjin Electrical Design Institute where Ms. Wu's husband Mr. Gu Wang worked. After witnessing how his colleague, Mr. Ma's 30-degree bent hunchback straightened after the exercise, Mr. Gu also took up Falun Gong and his facial paralysis recovered two months later.
Many Falun Dafa practitioners shared their stories at the time about their miraculous recoveries thanks to the practice's healing power. When Mr. Gu tried to persuade Ms. Wu to practice it, however, she said she did not believe in it.
Ms. Wu's mother was admitted to the hospital for lung cancer in late 1996. There were four patients in the room, three of whom passed away, one after another. Her mother did not want to die in the hospital and wanted to go home. When she was discharged, the doctor predicted that she may have three months left to live.
Ms. Wu was saddened by her mother's situation. She then remembered Falun Dafa, thinking, "Why not ask my mother to give it a try?"
Her then-68-year-old mother was bedridden and could not even sit up at the time. So Ms. Wu played Falun Dafa's lecture audio tapes for her to listen. On the third day, her mother was able to sit up. Another few days later, she could stand for a while. Another day later, she was able to do the first set of exercises, and gradually the second and third sets of exercises. Three months later, she recovered. Everyone was stunned!
Witnessing her mother's renewed life, Ms. Wu completely changed her notion, and believed that Falun Dafa is indeed not an ordinary practice.
She then took up Falun Dafa herself, and her stomach problem and depression disappeared within six months. Not only her, but also her father, siblings, in-laws, as well as many neighbors, acquaintances, and friends all came to practice Falun Dafa because of her mother's miraculous story.
Recovering from Cancers Twice
A woman in Dalian City, Liaoning Province said she recovered from two different cancers years apart, thanks to Falun Dafa.
The first time was when she had cervical cancer, and her aunt shared informational materials about Falun Dafa with her. She read the materials, as well as Falun Dafa books. Blessed by Dafa, she soon recovered.
The same woman felt unwell in January 2022. Her daughter took her to the hospital, and the examination showed lung cancer, with the cancer cells filling both lungs. The doctor said it was too late and he couldn't operate on her.
Her husband took her home for conservative treatment. She made up her mind that she should practice Falun Dafa, instead of trying other treatments.
She began to read Dafa books again. She did not lay in bed like a terminal illness patient, but did the house chores like usual. When her relatives and friends came to visit her, they were surprised to see how well she was. Without taking any medicine, her condition improved day by day. She is grateful for the blessings she received.
After Believing in Dafa, a Farmer Fully Recovers from Late-Stage Lung Cancer
Mr. Wu Futian is a 59-year-old farmer in Changde City, Hunan Province. In early 2016, he began losing weight and energy daily. He couldn't afford to go to the hospital, so he just tried to endure his discomfort. In June, his siblings insisted that he go to the hospital. He finally went, only to be diagnosed with late-stage, terminal lung cancer. The doctors said he could live for four months.
He was devastated by the news and felt completely helpless. It was just too sudden. The day before his diagnosis, he was still doing farm work, but was then "sentenced" to death one day later. He barely had enough money to make a living, so he could not afford any treatment.
His sister, a Falun Dafa practitioner, came to visit him a few days later. She advised him to recite the phrases "Falun Dafa is good, Truthfulness-Compassion-Forbearance is good." She assured him that as long as he recited the phrases sincerely, Falun Dafa's Master Li would help him.
Mr. Wu said that it was like a ray of light for him. He did what his sister asked him to do. A few days later, another practitioner gave him an audio player that had songs composed by Dafa practitioners and stories about traditional culture. Just like that, every day he stayed in bed reciting, "Falun Dafa is good, Truthfulness-Compassion-Forbearance is good," and his health began to improve, day by day.
He went to the hospital two months later for a checkup. The doctors said they could no longer find any cancer cells, and there were only two lymph nodes on his lungs.
When he went again after another month, the doctors said the lymph nodes had also disappeared! He said again and again, "Miracle! Miracle!"
(To be continued.)
All content published on this website are copyrighted by Minghui.org. Minghui will produce compilations of its online content regularly and on special occasions.