Colorectal Cancer Gone (Part I)—Stories about Falun Dafa's Healing Power
(Minghui.org) The International Agency for Research on Cancer (IARC) under the World Health Organization (WHO) released the latest global cancer data on December 15, 2020. It said that colorectal cancer (also known as colon cancer) is now the second most common cause of death from cancer, claiming almost 1 million lives per year. There were almost 2 million cases diagnosed in 2020. More than half a million of the new cases happened in China, which also recorded more than 280,000 colorectal cancer deaths per year.
Colorectal cancer is a collective term that includes the cancer of the colon, rectum, or anus. While it remains a challenge for modern medicine, many patients have recovered from the cancer quickly by practicing Falun Dafa, or reciting the auspicious phrases "Falun Dafa is good, and Truth-Compassion-Forbearance is good." The stories below are a manifestation of Dafa's miraculous healing power.
Vietnamese Woman Survived Colorectal Cancer
Ms. Chen Baoloan, 25, owns a hair salon in Hanoi, Vietnam. When she was 22, for a period of time, she felt fatigued and had frequent pain in the lower abdomen and blood in the stool.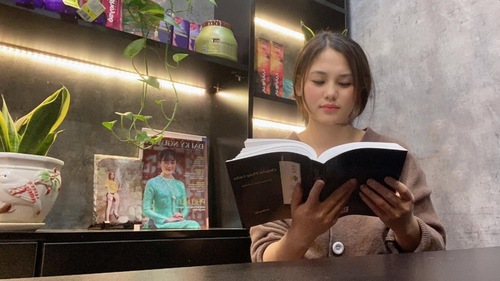 Ms. Chen Baoloan reading Zhuan Falun
She went to get tested in the hospital and a swollen tumor was found in her abdomen. An operation was required to remove the tumor.
A doctor advised her of the potential risks of the surgery, "You have colorectal cancer. The tumor is large and cancer cells have already spread. Removal of the tumor would also involve removal of the rectum, uterus, and ovaries and the insertion of an artificial anus. The operation is highly complicated, and there is no assurance of its success. And you may die on the operating table. You would only have six months to live if you choose not to have the surgery."
Ms. Chen did not expect the condition to be so serious. She collapsed. She decided not to have surgery and went for chemotherapy in the Hanoi Cancer Hospital. After six rounds of chemo treatment, she lost most of her hair. The skin on her limbs fell off, and her weight dropped to about 70 pounds.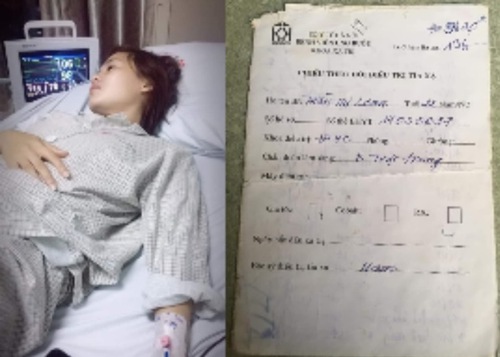 Ms. Chen Baoloan in patient bed and her medical report
In despair, Ms. Chen remembered a young Falun Dafa practitioner, who learned how to be a hairdresser together with her and once told her about the miraculous healing power of Falun Dafa. With his help, she located a group exercise site in Thong Nhat Park and started to do the exercises with other practitioners.
Ms. Chen felt very comfortable after doing the exercises for the first time. Her pain lessened a lot and her discomfort weakened. Fellow practitioners at the exercise site helped her very enthusiastically, which made her feel their compassion and warmed her heart.
From this exercise group, she heard a lot of stories of people recovering from cancer by practicing Dafa, including a leukemia patient who became illness free.
A miracle came to her five months later. All symptoms of her illness disappeared. Her appetite returned, and her weight was back to normal. She felt stronger and more energetic. More importantly, as her health improved, her state of mind significantly elevated. She was more conscious of conducting herself in accordance with the principles of Truthfulness-Compassion-Forbearance.
Ms. Chen excitedly said, "It has been two years since I started practicing Falun Dafa, and I am much healthier now. I didn't die in six months as the doctor had predicted and it is really a miracle."
No Pain at All after Surgery, in Remission 11 Years Later
Robert, a 79-year-old Australian, was a regional sales manager for a state-owned enterprise in Dalian City, Liaoning Province, China. He moved to Melbourne, Australia in 2011.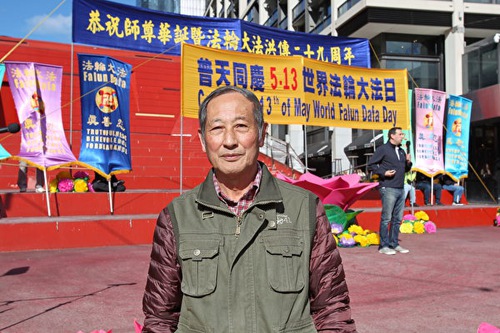 79-year-old Robert experienced Falun Dafa's miraculous healing power
In early 2012, Robert was diagnosed with advanced colon cancer, but he was calm as he had started practicing Falun Dafa a few months earlier. He said, "I do not worry about my diagnosis because I have read through Zhuan Falun, the main book of Falun Dafa, after I came to Australia. I was in awe of the profound principles of Dafa and I wish I had read it much earlier."
Robert's wife started practicing Falun Dafa in 1997. After the practice, her diseases including hypertension and severe headaches completely disappeared. Robert witnessed his wife's changes and became supportive of her practicing Dafa, even after the Chinese communist regime started persecuting Falun Dafa in 1999. He helped her distribute Dafa materials. He quit the Chinese Communist Party and its affiliated organizations in 2004. But he did not read the book Zhuan Falun until November 2011 after he moved to Australia.
Robert had a six-hour operation in February 2012. After the operation, a nurse gave him some painkillers just in case. On the second day, the nurse was surprised that no medicine wasn't consumed at all. Robert smiled and said, "Why would I take the medicine if I did not feel any pain at all?"
He added, "Before entering the operating room and having anesthesia, I had recited in my heart 'Falun Dafa is good, Truthfulness-Compassion-Forbearance is good' until I was unconscious. The surgery took six hours. When I was pushed into the patient room, I did not feel any pain."
Seeing Robert in good spirits, the doctor let him move around on the floor the day after the surgery. On the third day, the doctor removed all the cannula from his body. He was discharged from the hospital one week after the surgery.
Generally speaking, rehabilitation after surgery is a long and difficult process because it can cause great harm to the body. But this did not happen to Robert.
Robert said, "The doctor found that my medical conditions were normal during the first routine check-up after discharge. He was amazed that I was different from other patients. I told him that I am a Dafa practitioner. I then gave him a flyer about Falun Dafa."
The recurrence and metastasis rate of colorectal cancer after surgery is statistically as high as 50% in China, with 90% of them occurring within two or three years after surgery. Eleven years have gone by, and Robert is still in remission. He has also not taken any medicine since.
Robert is very healthy now. He goes to the local Falun Dafa stand to clarify the truth to people every week. He also helps his children to take care of his two grandsons.
A New Practitioner in Taiwan: My Colorectal Cancer Is Gone!
Mr. Guo Wentang, 67, is a resident of Minxiong Township, Chiayi County, Taiwan. He operated a transportation cargo business for more than 40 years and retired a few years ago. His hard work and irregular meal schedules caused him gastrointestinal problems. In early 2019, he was diagnosed with second-phase colorectal cancer.
Although Mr. Guo had surgery in May 2019 and underwent chemotherapy, his cancer advanced to the last phase. The cancer cells also spread to the lungs. Surgery was thus done in the lung. He felt weak and exhausted after the surgery.
One morning in early 2020, Mr. Guo saw someone doing exercises in the village, with a Falun Dafa banner hanging behind him. Mr. Guo liked the smooth movement of the exercises and then joined a group to do the exercises in a park near the Minxiong Township Office.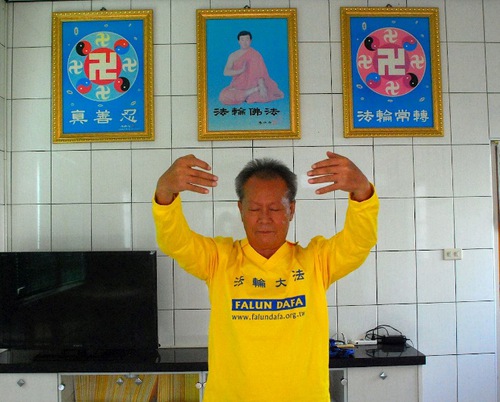 Mr. Guo Wentang doing Falun Dafa exercises
Mr. Guo had a throat problem as a result of the surgery. He could only breathe with his mouth. But the problem did not stop him from practicing Falun Dafa. Slowly, his health started to improve, and his cancer disappeared a year later. He went for a computer tomography in June 2021 and no abnormal growth was found.
He now gets up at 4 a.m. to do Falun Dafa exercises and studies the Fa in the afternoon every day.
Mr. Guo said gratefully, "Many thanks to Dafa and Master Li, the founder of Falun Gong. My colorectal cancer is gone!"
Successful Business Woman Recovers from Colorectal Cancer
Ms. Yoshiko Mochizuki, 69, was born in Shandong Province, China. She had worked as a carpenter, an iron worker, a cement worker, a teacher, and a general manager before she started a business in the food industry. She not only accumulated fame but also rose in social status. Just when she was at the peak of her career, a terminal illness struck her.
Ms. Mochizuki said, "I was told by my doctor that I had bowel cancer and could only have five years to live at the most. This unexpected, grim news put my family in a desperate situation."
She added, "I felt death was right around the corner at that time. I had to have blood transfusions because I lost my appetite due to all the medications I was taking and could only eat a small amount of food. My liver was also bad. So was my sleep. My health was very poor."
In 1992, Ms. Mochizuki and her family moved to Japan. She got an introductory book about Falun Dafa and an exercise instruction video from a practitioner. Since then, her fate has changed.
Ms. Mochizuki played the exercise video the following day. She was drawn to the mellow music and the smooth movement. She followed the exercises. She had a good sleep that night, which she had not had for a long time.
Ms. Mochizuki continued to practice every day and slowly her physical condition improved. Her complexion looked healthy and she was able to eat more. She could do housework again.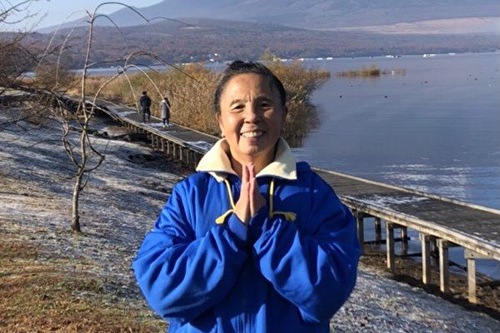 Ms. Yoshiko Mochizuki thanking Master for giving her a second life
Not only did her cancer disappear unknowingly, her other diseases including neuropathic headaches, heart disease, hepatitis C, and stomach problems were also gone.
Ms. Mochizuki said, "I have been very lucky to have Master and Dafa. It has been more than 25 years and I am still very healthy."
"I would like to tell every person in the world that Falun Dafa not only cures diseases and keeps one fit, but also teaches people the meaning of life, which is to return to one's original true self." She added.
"Master Gave Me a New Life"
Ms. Li Dianqin, 72, was an assistant accountant in the Texi District of Shenyang City, Liaoning Province, China. She now lives in New York. She looks healthy and energetic. No one can tell that she was once terminally ill.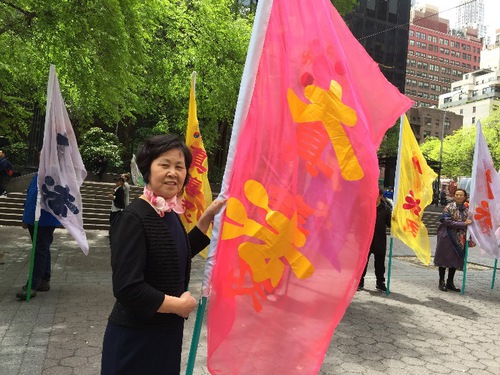 Ms. Li Dianqin celebrating 5.13 World Falun Dafa Day
Ms. Li said, "Master gave me a new life. In 1995, I had a hemangioma on my liver. My intestines were damaged and I could not eat. My weight dropped to about 60 pounds from 130 pounds. I was not able to walk. I felt so much pain that I pulled my hair out to distract me."
One day in June 1995, Ms. Li suddenly felt that her days were numbered. She called her close relatives and entrusted her daughter to them.
On the same day, Ms. Li's daughter suddenly remembered that some people had practiced Falun Dafa in a nearby park. She quickly pushed her mother to the exercise site to join the group. Ms. Li felt a warm current flowing through her whole body as soon as she tried the exercises. She was thus convinced that this was the right practice for her.
After the practice, all of her diseases disappeared. Ms. Li has not taken any medicine or been hospitalized in the past 27 years.
I Only Had Three Months to Live 25 Years Ago
Ms. Li Hongzhen, also a New York resident, was diagnosed with colorectal cancer in 1997 when she was still in Shanghai, China. She had surgery to remove the cancer, but the doctor told her family that she only had three months to live.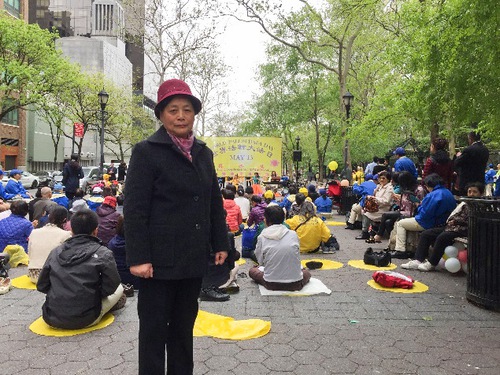 Ms. Li Hongzhen participating in group exercises in New York
Ms. Li said, "My uterine fibroids and liver cysts were also removed during the operation. After the surgery, I could not eat or walk. I had to go to the restroom every few minutes."
She added, "I later borrowed Zhuan Falun, the main book of Falun Dafa, from a neighbor. From the book, I learned that Master would cleanse my body as long as I cultivated diligently. Being so ill, I decided to leave my fate to Master."
Ms. Li started to practice Falun Dafa in a park. Three months later, her health started to improve and the frequency of pain gradually decreased, from monthly to yearly.
Twenty-five years have passed, and she is still alive and healthy. Ms. Li hopes that people in China can understand the truth about Dafa and have an auspicious future for themselves.
Colorectal Cancer Disappeared after Practicing Falun Dafa
Ms. Jiang Xioyan, 62, is a resident of Harbin City, Heilongjiang Province. Before she started practicing Falun Dafa, she had colorectal cancer and was desperate. She became a nun and lived in a temple for two years.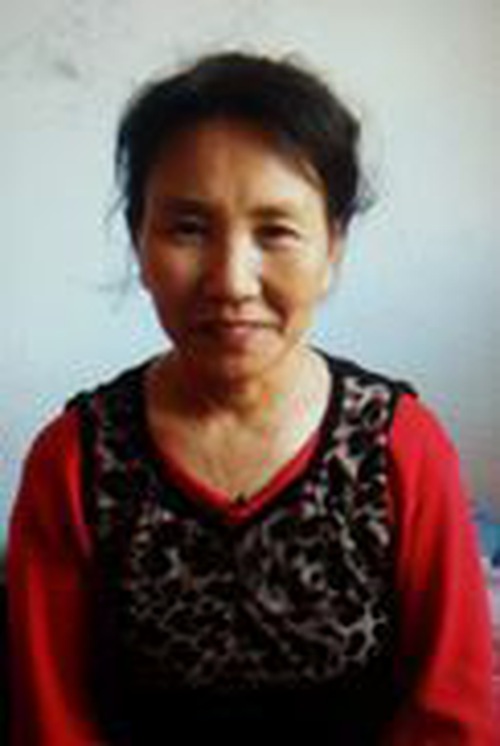 Ms. Jiang Xiaoyan
Ms. Li's father, Mr. Jiang Jiquan, 89, was a cadre for the Harbin Railroad Bureau. He had cancer and the cancer cells had spread to the whole body. He vomited blood and also had blood in the stool and urine. He had been treated at all the large hospitals in Harbin but to no avail. The specialists in Shanghai, Beijing, and famous international health units also failed to treat this rare cancer.
In order to survive, Mr. Jiang learned all kinds of qigong. But none of them worked, and the pain persisted. He started to practice Falun Dafa in 1996. Not long after starting the practice, the cancer disappeared and he recovered his health.
Ms. Li returned to her father's home after she realized that being a nun could not save her.
Ms. Li's father encouraged her to try Falun Dafa. He said, "Daughter, please listen to me. Would you just give it a try? You see, didn't my cancer disappear after the practice?"
Taking the advice from her father, Ms. Li started practicing Falun Dafa with an attitude of giving it a try. Not long after the practice, her health completely recovered. The incurable cancer disappeared completely.
Ms. Li and her father have not taken any medicine or seen a doctor for more than a decade. Both of them are still very healthy.
(To be continued)
All content published on this website are copyrighted by Minghui.org. Minghui will produce compilations of its online content regularly and on special occasions.